Researching how heart cells or embryos develop is not typical summertime fare for most students. At the University of Houston, however, enterprising young scientists are participating in an intensive summer program delving into any number of complex projects.
Eleven students from the College of Natural Sciences and Mathematics have committed their time to the Summer Undergraduate Research Fellowship (SURF) program. Open to UH undergraduates from all colleges and disciplines across campus, SURF provides students with a concentrated, 10-week research experience under the mentorship of faculty members.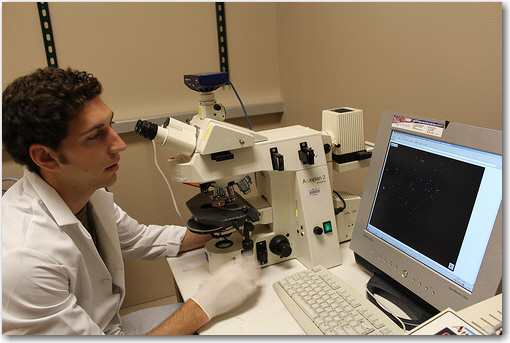 "This summer, I am studying how heart cells develop, in an effort to one day learn how they can be repaired once damaged," said John Harger, a student working with biology professor Robert Schwartz. "I am looking at proteins that are important in the developing heart and trying to determine how they direct cell fate. I hope to find a mechanism that can be replicated in the laboratory and used toward clinical heart therapy."
Another student delving into matters of the heart is Angela Abouassi, who is researching with David Stewart, a research assistant professor in biology and also part of the Schwartz team. Studying heart development in mice embryos, she is focusing on the exact function of a specific gene and hopes that her work will lead to further investigation about that gene and its function in embryonic heart development. This sort of genetic sequencing can ultimately result in the early detection of heart defects in infants.
From the biology and biochemistry department's evolution and ecology group, assistant professor Tim Cooper is mentoring Zakari Kwota and Trang Duong during their examination of certain evolutionary consequences in E. coli to better understand how organisms respond to changes in the environment. Kwota says this knowledge will help biologists understand and predict the range of responses by which bacteria can adapt physiologically to environmental changes. In a perfect mentor-student pairing, Cooper's lab centers on understanding the processes underlying adaptive evolution, using bacterial and computational experimental systems to identify and integrate these mechanisms and examine how they depend on genetic and environmental factors.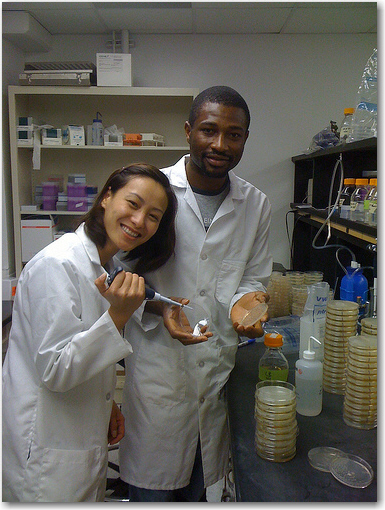 With more than 40 participants this year, the SURF program includes students from a variety of majors, spanning biology, chemistry, engineering, architecture, political science, English, history, psychology, pharmacy, education and physics. Each student receives a $3,500 stipend. At the end of the program, the SURF students will be prepared to present research posters on their substantive research projects at UH's annual
Undergraduate Research Day
Oct. 14. 
###
EDITOR'S NOTE:
More photos of SURF participants are available at
http://www.flickr.com/photos/uhundergradresearch/
.
About the University of Houston
The University of Houston is a comprehensive national research institution serving the globally competitive Houston and Gulf Coast Region by providing world-class faculty, experiential learning and strategic industry partnerships.  UH serves 37,000 students in the nation's fourth-largest city in the most ethnically and culturally diverse region in the country. 
About the College of Natural Sciences and Mathematics
The UH College of Natural Sciences and Mathematics, with 181 ranked faculty and approximately 4,500 students, offers bachelor's, master's and doctoral degrees in the natural sciences, computational sciences and mathematics.  Faculty members in the departments of biology and biochemistry, chemistry, computer science, earth and atmospheric sciences, mathematics and physics conduct internationally recognized research in collaboration with industry, Texas Medical Center institutions, NASA and others worldwide. 
For more information about UH, visit the university's Newsroom at
http://www.uh.edu/news-events/
. 
To receive UH science news via e-mail, visit
http://www.uh.edu/news-events/mailing-lists/sciencelistserv/index.php
. 
For additional news alerts about UH, follow us on
Facebook
and
Twitter
. 
---