The German Marshall Fund of the United States (GMF) has announced John Boerstler, a graduate student in the masters of public administration (MPA) program at the University of Houston, as one of the 44 emerging leaders awarded the prestigious Marshall Memorial Fellowship (MMF) for 2011. During the 24-day traveling program, fellows will develop extensive knowledge of political, economic and social institutions and issues facing the United States and Europe.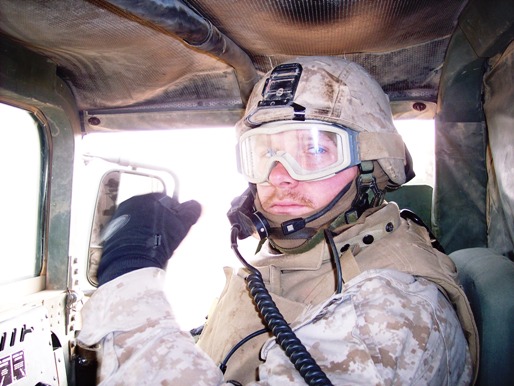 John Boerstler during the first Iraqi elections in January 2005 as a Marine non-commissioned officer in the Al Anbar Province.
                "This is an extraordinary honor and representative of John's excellence and commitment as a professional and a citizen.  We are proud to have John as a student in the UH MPA program and an ambassador for our country and the city of Houston," said James Thurmond, director of the University of Houston Masters of Public Administration Program. "As an award-winning and decorated U.S. Marine veteran and president and co-founder of the Lone Star Veterans Association, a non-profit organization that helps coordinate transition services to members and families, John demonstrates a commitment to public service and experience in governmental processes."           
                Boerstler is a first-year graduate student in the UH MPA program and works fulltime as a municipal employee as deputy director of the city of Houston Office of Veteran Affairs.  His work experience includes serving as a senior staff member for former Congressman Nick Lampson and in the U.S. Marine Corps for seven years. During his time as a non-commissioned officer in the Marines, he received several awards and decorations, including the Navy/Marine Corps Achievement Medal, Navy Unit Commendation Medal, Combat Action Ribbon, Operation Iraqi Freedom Campaign Medal, Global War on Terrorism Expeditionary Medal and National Defense Medal. Boerstler is a graduate of Texas A&M University (B.A. in 2006).  
                "I am honored to receive the Marshall Memorial Fellowship.  This opportunity will allow me to learn more about the inner workings of the European Union so I can bring this knowledge back to Houston and share it with my peers, professors and colleagues," said Boerstler. "The fellowship will improve our overall knowledge of the European Union's systems of governance and allow me to expand my ability to interact with many experts in transatlantic relations as an American living and working abroad with other fellows while immersed in the 24-day program."
                The MMF program educates emerging American and European leaders on the importance of the transatlantic relationship and encourages them to collaborate on a range of international and domestic policy challenges. Fellows are selected through competitive nationwide and regional processes and come from politics, government, media, business and the non-profit sector. Boerstler and his counterparts will spend 24 days traveling to five cities across Europe, learning about the institutions and people that drive Europe's cities, regions, countries and multilateral systems through meetings with local counterparts.
                This opportunity was brought to Houston for the first time this year through the GMF's partnership with the World Affairs Council of Houston to identify and select the American Marshall Memorial Fellows.
                The MMF was created by the German Marshall Fund (GMF) in 1982 to introduce a new generation of European leaders to America's institutions, politics and people.  In 1999, GMF launched a companion program to expose future U.S. leaders to changing and expanding Europe.             
                The GMF is a non-partisan American public policy and grantmaking institution dedicated to promoting better understanding and cooperation between North America and Europe on transatlantic and global issues.
###
---