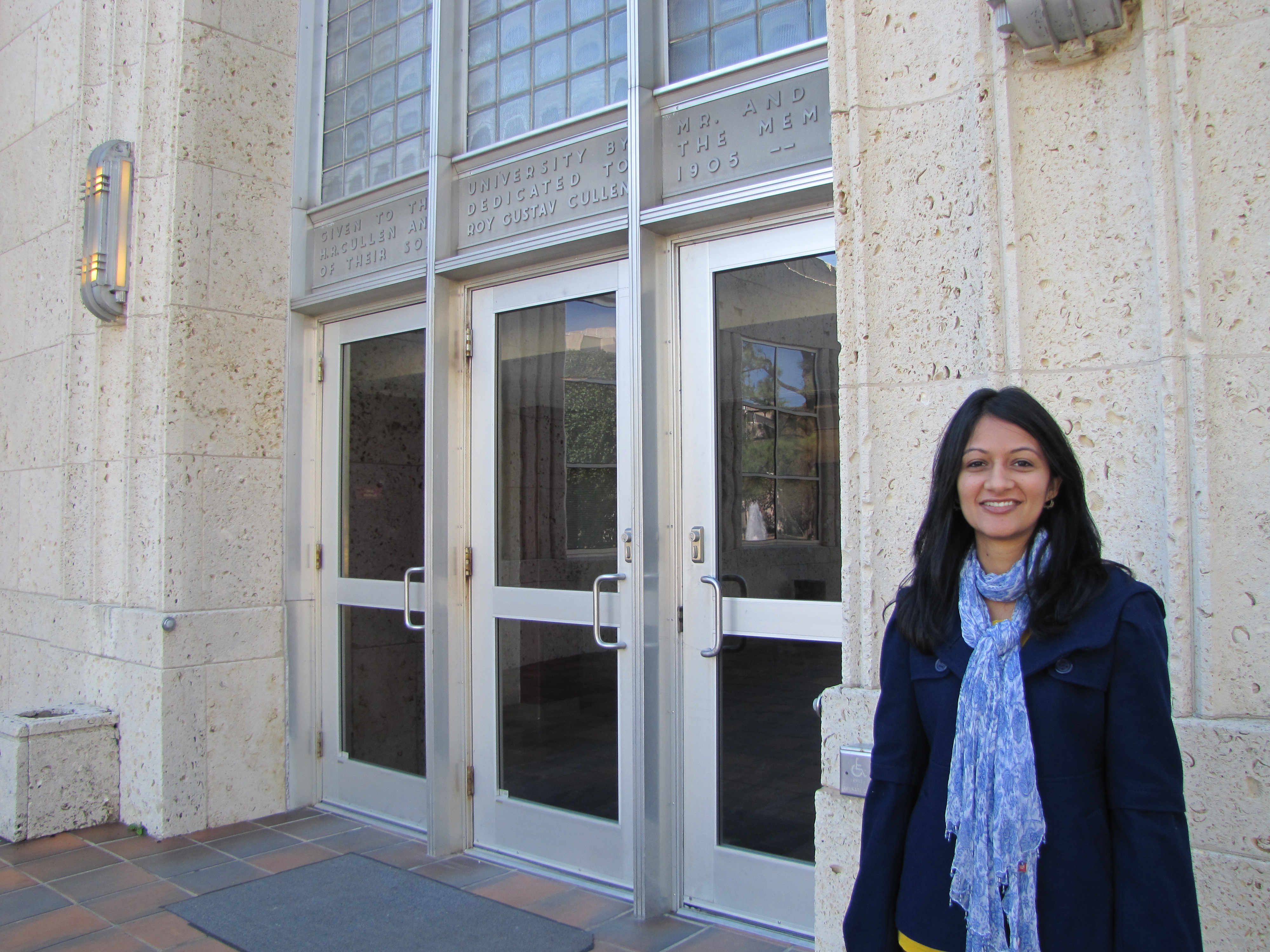 University of Houston student Sruthi Thekkiam has authored the first few chapters of a novel that is inspired by the works of iconic Bengali artist Rabindranath Tagore. It's only fitting that a new scholarship named for him will support Thekkiam as she completes her book.
Thekkiam is a fourth-year Ph.D. candidate in the UH department of English's Creative Writing Program. Sponsored by the Tagore Society of Houston (TSH), the Tagore Passport Operating Scholarship will provide her with $5,000 that will be applied to work on her novel - tentatively titled "These Amorphus Lives."
Thekkiam will use this scholarship as she plans to travel to India to conduct research and learn more about Tagore. In India, she will visit Vishwa Bharati University at Shantiniketan and the Tagore Cultural Center in Bangalore.
"At Vishwa Bharati University, I intend to devote a significant amount of time to research," Thekkiam wrote in her application letter. "As a writer, I am curious to see which writers Tagore himself cherished and looked up to. I also am very interested in studying his original manuscripts and various drafts of his works."
This fall, the Tagore Society of Houston in collaboration with UH's English department introduced the Tagore Passport Operating Scholarship. The scholarship is open to full-time UH graduate students in any discipline. It will be awarded annually to an outstanding student who will apply its funds to one semester of research or creative work dedicated to the legacy of Tagore.
 "This is an important new initiative for our department and UH," said Wyman Herendeen, chair of UH's English department. "It is a major new partnership with the Indian community in Houston and with our educational partners in India. We feel that this is just the first step for further collaboration with the Tagore Society." 
Tagore was born in 1861 in Calcutta. A natural writer since he was a boy, Tagore authored many volumes of poetry including "Manasi (The Ideal One)," "Sonar Tari (The Golden Boat)," "Gitanjali (Song Offerings)," "Gitimalya (Garland of Songs)" and "Balaka (The Flight of Cranes)." He also wrote eight novels including "Chaturanga (Quartet)," "Shesher Kobita (The Last Poem)," "Char Adyhay (Four Chapters)" and "Noukadubi (The Boat Wreck)." As a songwriter, Tagore composed more than 2,000 works. Later in life, he added painting to his repertoire and became a successful and prolific artist. In 1913, he was named the Nobel Laureate of Literature. He also is noted for his close friendship with Mohandas Gandhi, 20th century leader of India's independence movement.
"The Tagore Society of Houston is proud and excited at the selection of the first UH Tagore Scholar," said Surajit Dasgupta, executive director of TSH. "This puts both the university and TSH at the forefront of the movement to rediscover the enduring legacy of Tagore in the world of literature, arts, education, humanism and the philosophy of a borderless mind. We hope that with this first small step, Tagore's words and thoughts may ring loud again and be the harbinger of new class of great world leaders."
---