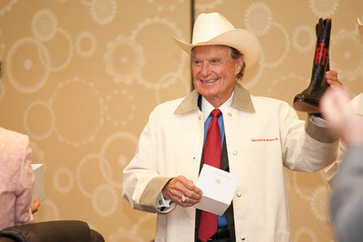 The University of Houston continues to make significant progress on its trek toward Tier One status. UH President Renu Khator illustrated this point during Tuesday's UH System Board of Regents quarterly meeting. Since her arrival in 2008, UH has reached several milestones that have helped it move closer toward its Tier One goals. Among the accomplishments she cited for the board are:
- Recruiting five members of the National Academy of Sciences.
- A record enrollment of 37,000 students during fall 2009
- The creation of the UH Energy Research Park
- Earning a Carnegie Foundation designation as a Community-Engaged Institution
- Increased media visibility, including national coverage focused on Don Van Nieuwenhuise discussing the BP oil spill.
- An increase in post-doctoral appointments from 111 to 185.
- A growing campus comprised of 120 buildings.
Complimenting these accomplishments, Stuart Long, interim UH vice president for research, presented the board with details on the increases in research awards and expenditures. As of July 2010, UH's awards totaled $110 million (a 9 percent increase from 2009) and expenditures totaled 78.8 million (a 12 percent increase from 2009).
Also on the rise are graduation rates. Elaine Charlson, executive associate vice president for academic and faculty affairs, discussed Project 549. The program identified 549 students who first enrolled as freshmen in 2004. These students had not graduated but had enough hours to do so. Advisers then contacted these students to provide information and guidance to help them graduate. Of these 549 students, 268 graduated in 2009.
"The interesting thing was that the graduation rate of this class increased from 36.3 percent to 45.1 percent," Charlson said. "We've learned from this. We're not waiting until the end to address the issue of helping them graduate. We will work with them from the day they begin as freshmen until their senior years."
The board applauded this effort and also provided support for another valuable resource for students. It unanimously approved a 100,000-square-foot addition to the University Center (UC).
Budgeted at $44.2 million, this new facility will be adjacent to the UC at the site currently occupied by Lot 1E.
Much of the UC's primary infrastructure -- student organizations, retail outlets and dining services -- will relocate into the new building. It also will host a number of new amenities including a theater and meeting spaces.
The construction of this new facility will be phase 1 of a two-part expansion and renovation project for the UC. Upon approval from the board, phase 2 will involve renovating and rehabilitating the existing facility.
Among the enthusiastic supporters of this project was board outgoing chairman Welcome Wilson Sr. Wilson had served three consecutive terms as chair and tirelessly championed UH's drive toward Tier One status. This meeting was his last as chairman.
At the meeting's onset, Wilson was surprised when a group of UH Frontiersman - wearing cowboy hats and dusters - presented him with his own duster with monogram on the back that read "Cougar Maximus." The Frontiersman also delivered a pair of black cowboy boots with the UH logo emblazoned in red.
Khator also expressed her thanks to Wilson for his energy and support and presented him with a hardbound book containing photos from his time as the board's chair.
Also in attendance during this ceremony was Wilson's family.
"In 1947, I was a senior at UH," Wilson said. "I met H.R. Cullen, the founding chairman of the university's Board of Regents. He was a very impressive man. That night, I decided that was what I wanted to be later in life. I didn't want to be mayor. I didn't want to be governor. I didn't want to be president. I wanted to be chairman of the Board of Regents. Sixty years later, I was honored by this board, and it's been a wonderful opportunity."
---