As a teenager, Betsy Cook Weber was not a rock 'n' roller. Unlike many of her peers at Houston's Sterling High School, she preferred a much different sound.
"I listened to a lot of classical music," said Weber, director of undergraduate choral studies at the University of Houston's Moores School of Music (MSM). "I didn't dare tell anyone. I don't know why, but I was really secretive about that."
Weber doesn't hide her passion for the classics anymore. She uses it to fuel students' enthusiasm for music both in the classroom and on stage. Lately, these energies have been focused on readying student singers for the performance of a lifetime.
Thanks to her direction and inspiration, the Moores Concert Chorale will perform and compete at the renowned choir festival Llangollen Musical Eisteddfod in Wales July 6 - 12. For four decades, this annual event has attracted the best choirs in the world, and the Moores Chorale is among only four U.S. groups that were selected for it.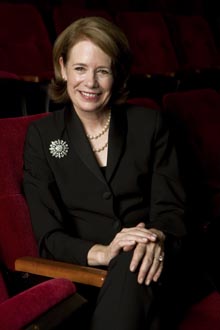 "I was thrilled when I found out we were accepted to compete at this event," Weber said. "The students were equally excited when I told them, but they are being realistic. They know this isn't just a trip overseas. They are rehearsing diligently for this event and are aware that the real work begins as soon as we arrive in Wales."
Weber's interest in music started when she was just 10 years old. She cites several teachers as motivating her as a musician and a teacher. One elementary school instructor, Julia Echols, planted the first musical seeds in Weber's young mind.
"I wanted to be just like her," she said. "It was around that time, I started learning piano. And I was fortunate to have more great teachers who continued to inspire me, including Hester Cronquest in middle school and Jean Galloway in high school. I knew at an early age that I wanted to be a music teacher, and I never changed my mind."
After graduating from Sterling High School, Weber headed to North Texas State University (now the University of North Texas) in Denton, Texas, for her bachelor's degree in music. After graduating, she quickly jumped into teaching music in Spring Branch elementary and music schools
Seven years later, Weber decided to pursue her master's degree at Westminster Choir College in Princeton, N.J.. After completing her master's degree in 1982, she returned to Houston and to teaching. Ultimately, she began to focus on a doctoral degree. This time, however, she was resolved to stay in town.
She admits that she did not know much about UH's music school, but was instantly taken with its scope and the faculty, many of whom are now her peers.
"The university had been right under my nose, and I never noticed," she said. "When I became a student, I was immediately impressed by its excellence, and am still in awe of what it offers to students and the community. I am a big fan of UH because it provides students with valuable educational experiences."
Since joining UH's faculty, Weber has encouraged students to explore the many performance opportunities available to them through MSM. Her students have performed in lavish opera productions with the Moores Opera Center and concerts alongside world-renowned conductors, singers and musicians at concerts and festivals.
Under her direction, the Moores Concert Chorale entertains audiences in Houston and across the state, including concerts at the Texas Music Educators Association in San Antonio in 2005 and 2008. Of particular note was a 2007 performance at the national convention of the American Choral Directors Association in Miami. It was this high-profile concert that raised both the chorale's visibility and level of performance.
"The students worked very hard for this performance," she said. "The process of preparing for this concert lifted our professional standards and made this choir a stronger, more polished unit."
Weber is no doubt pleased with the growth of the Moores Concert Chorale, but she also takes particular interest in the musical and professional development of its individual members. One of her protéges, chorale member Gregory McDaniel, will attend the competition in Wales and recently earned top honors in the American Choral Directors Association National Undergraduate Conducting Competition in Oklahoma City. He credits her support as being integral to his success as a musician and to the chorale's evolution into a world-class choir.
"Dr. Weber inspires students to be professional, bold performers and prepared musicians," McDaniel said. "She gives us the tools that we need for our studies right now and those that we'll ultimately use in our professional careers."
Weber will accompany the Moores Concert Chorale to Wales for Llangollen Musical Eisteddfod. The chorale will be the U.S. representative during the event's Peace Concert, which features 10 choirs each representing different parts of the world.
"Long before I ever met Betsy, I had heard about her great success during her tenure as choir director in Spring Branch," said David Ashley White, director of the Moores School of Music. "After she came to UH and joining our faculty, I quickly realized why her colleagues held her in such high esteem. Besides being a fine artist who has transformed our chorale into an impressive group of young singers, she is a born leader who demands the best from her students and gets it!
To learn more about the Moores Concert Chorale, visit http://www.music.uh.edu/choral/chorale.html, and for details on Llangollen Musical Eisteddfod, visit http://www.llangollen2009.com/.
MSM is one of the premier music schools in America. Offering bachelor's, master's and doctoral degrees, it serves approximately 600 students annually. Areas of study include composition, conducting, performance, theory and musicology. Its faculty consists of internationally recognized performers, composers and scholars. Among its ensembles are the Moores School Symphony Orchestra, Moores Jazz Ensemble, Moores Opera Center, Concert Chorale, Concert Women's Chorus, Spirit of Houston Cougar Marching Band, Wind Ensemble and Percussion Ensemble. A majority of the school's concerts are performed in the 800-seat Moores Opera House. For more details on the Moores School of Music, visit http://www.music.uh.edu/.
---