When Justin Farley imagined his life after graduating from the University of Houston's top-rated entrepreneurship program, he thought he would be running a custard shop.
 Instead, he is the founder and CEO of an Internet start-up, selling assistive technology, wheelchair accessories and other products designed to help people with limited mobility become as independent as possible.
 UNlimiters moved this fall into the University's Energy Research Park, located near campus, off Houston's Gulf Freeway. It houses incubator space, along with academic programs, the Texas Center for Clean Engines, Emissions, and Fuels and research programs run by UH and by industry.
 Farley, who graduated with a degree in entrepreneurship in December, and Derek Yeung, who graduated from UH last spring with a degree in industrial design, are the only employees so far, although they have big dreams.
 Farley and his father, Jon Farley, bought the UNlimiters.com domain name in 2009 after coming up with the name and finding that it was available.
 He entered the UH Bauer College of Business Wolff Center for Entrepreneurship in 2011. The program is ranked No. 2 on The Princeton Review's 2013 list of undergraduate entrepreneurship programs in the U.S. for Entrepreneur magazine.
 Farley told his assigned mentor – a businesswoman with a background in nonprofit organizations – that he wanted to start a custard stand.
 "That got turned down really fast," he said.
 So he went to Plan B. Farley has cerebral palsy, and mixing his long-time passion for business with his ownership of the domain name and his interest in helping people with disabilities retain their independence seemed like a natural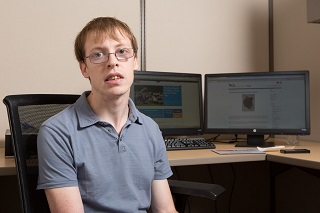 fit.
 Soon he had a board of directors. Yeung was part of a group of industrial design students in UH's Gerald D. Hines College of Architecture who were assigned to design new products for the company. They were never produced, and the company serves as a clearinghouse, selling products manufactured elsewhere.
 Other students drafted Farley – and his idea – for a series of business plan competitions. They won first place in competitions at Texas Christian University and the University of Nebraska, tied for second place at Chapman University and placed in the top 10 at San Diego State University.
 After graduation, Farley began to make the transition from academic business plan to reality. Yeung joined the fledgling company after he graduated.
 "I wanted to work with Justin on his dream," he said. "Or rather, our dream."
 It is a dream in progress, as they use social media and other low-budget measures to build the business.
 Unlimiters is more than just a business plan or a catchy domain name. Farley and Yeung see it as a potentially lucrative business – "We think this could be an Amazon," Farley said – but they also are moved by its potential to lift the limitations from people's lives.
 The products are all intended to make life better for people with limited mobility: shirts that close with magnetic snaps, grabbers to reach items on a top shelf or the floor, umbrellas, laptop desks and other accessories designed for people who use a wheelchair.
  And even if Farley once pitched the idea of opening a custard stand, he said that was only a way to raise money for a business like this. "I always knew I'd do this someday," he said.
---