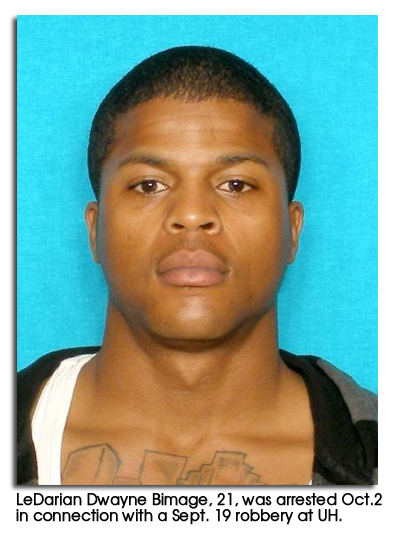 An aggressive and thorough investigation that
netted two arrests
last week met with more success today (Oct. 2) as University of Houston police announced a third arrest in connection with a Sept. 19 robbery that occurred on campus. 
UH Police Chief Ceaser Moore said LeDarian Dwayne Bimage, 21, was arrested at his west Houston apartment this morning by the UH Department of Public Safety Anti-Crime Team, with the assistance of the Houston Police Department tactical squad. 
The UH Anti-Crime Team was established Sept. 21 as a project-oriented street crime unit. The unit is charged with targeting and suppressing selective street-level crime problems within the UH community through the use of specialized enforcement methods. The Anti-Crime Team communicates and works closely with the community, with the UH Patrol and Investigations Divisions, as well as private, local and federal law enforcement agencies, Moore said. 
Bimage was charged with aggravated robbery – the third suspect arrested and charged in the incident in which a lone gunman and a getaway driver robbed a UH student of his cell phone and wallet. Evidence indicates that Bimage was the getaway driver, Moore said. 
Two other suspects were arrested on unrelated warrants during the course of Bimage's arrest. The investigation is ongoing, and it has not been determined if the Sept. 19 robbery is connected to two other recent robberies that occurred on or near campus. Police also are investigating the possibility that the arrested parties arepart of a criminal enterprise operating throughout the city. 
"UH police are vigorously pursuing additional leads and suspects," Moore said.
---