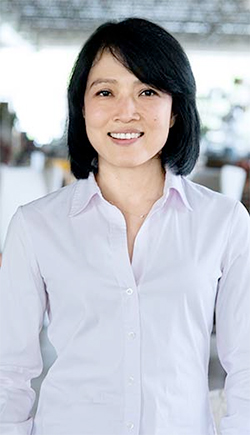 Chinhui Juhn, the Henry Graham Professor of Economics at the University of Houston (UH), was recently appointed by the Russell Sage Foundation  as a visiting scholar for 2015-2016. The foundation, based in New York City, is devoted to research in the social sciences and publish books based on the works of its grantees and visiting scholars.
The full-time appointment will allow Juhn to continue her work as the principal investigator of a research study titled "Who Needs Kids? Fertility, Workforce and the Future." Elizabeth Gregory, professor of English and director of the Women's Gender and Sexuality Studies Program, is the project's co-principal investigator.
Together, Juhn and Gregory are researching and writing a new book on the intersections of work policy and fertility that will be a continuation of their separate research efforts on the economic and social dynamics informing men's and women's choices around work and family.
Juhn is the author of numerous peer-reviewed articles and book chapters on labor policy. She has been awarded five research grants from the National Bureau of Economic Research. In the 2012-2013 academic year, Juhn worked in the White House for the Obama administration as a Council of Economic Advisers staff member.
Gregory is the author of the book "Ready: Why Women Are Embracing the New Later Motherhood," which is based on in-depth interviews with more than 100 women who became mothers for the first time in their late thirties and early forties. Gregory's extensive research delves into data and makes analysis that shatters some myths surrounding later motherhood.
# # #
About the University of Houston
The University of Houston is a Carnegie-designated Tier One public research university recognized by The Princeton Review as one of the nation's best colleges for undergraduate education. UH serves the globally competitive Houston and Gulf Coast Region by providing world-class faculty, experiential learning and strategic industry partnerships. Located in the nation's fourth-largest city, UH serves more than 40,900 students in the most ethnically and culturally diverse region in the country.
---