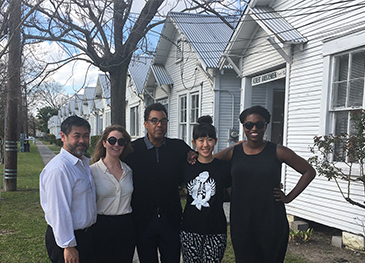 The University of Houston Kathrine G. McGovern College of the Arts (CotA) and Project Row Houses (PRH) have created a pilot fellowship program that builds upon the practice, research and implementation of socially-engaged art projects and the impact these projects have in transforming communities.
The fellowship program invites artists and cultural practitioners to the Third Ward to work alongside urban planners, educators and policy makers. They will engage in creative collaborations that involve the Third Ward community and address issues important to them. The fellowship unites more the than 20 years of work in community-engaged art done by PRH with the intellectual and educational capacity of Houston's largest arts college. The McGovern College of the Arts has more than 1,500 students and a mission to positively shape the world through art.
"Project Row Houses has been working in Houston's Third Ward for over two decades, investigating and reimagining what lies at the intersection of art and community engagement," said Eureka Gilkey, PRH executive director. "We are beyond thrilled to work with the College of the Arts to share our knowledge and are very hopeful that this will have a long-term impact on the arts and a range of communities across the country."
"We believe that the key to improving our society and positively shaping our world is to integrate the arts into our communities," said Andrew Davis, interim dean of the McGovern College of the Arts. "One of our top priorities in the College of the Arts is to train students for real-world, socially engaged experiences as artists working to better their communities."
The fellowship is funded through a $100,000 gift from Texas philanthropist Suzanne Deal Booth, which also supports future public programs to promote community engagement.
The first class of fellows will be introduced during a public launch 6-8 p.m., Thursday, February 16 at the Historic Eldorado Ballroom Boardroom, 2310 Elgin St., Houston, TX 77004.
About the fellows:
Carol Zou is a Texas-based artist who will use the fellowship period to investigate the displacement of artists from metropolitan art centers like New York and Los Angeles to up-and-coming art cities like Houston, and how this regional displacement has the potential to affect local gentrification trends. She will engage with artist-led initiatives such as Project Row Houses' Emancipation Economic Development Council to research strategies of resisting displacement.
Carrie Schneider is a Houston-based artist interested in people's ability to reimagine their space. She uses art to invent ceremony and reconfigure memory. For the CotA-PRH Fellowship, Schneider will examine the idea of Survival Creativity – amending the adage that "the greatest creativity comes from the most dire circumstances" to consider what support that allows silence to break.  She is looking to the broad Houston community for creative processes in which personal coping strategies are successfully translated into public catharsis and stories of trauma transformed into speech acts.
Schneider and Zou will have a year-long mentorship with UH School of Art professor and Project Row Houses founder Rick Lowe along with project administrators Sixto Wagan, director of the UH Center for Art and Social Engagement, and Ryan N. Dennis, PRH public art director.  Local artists, faculty members, community members and selected leaders will offer their support during this process. The Fellows will present to the public their research–to-date at the end of their fellowship.  
---