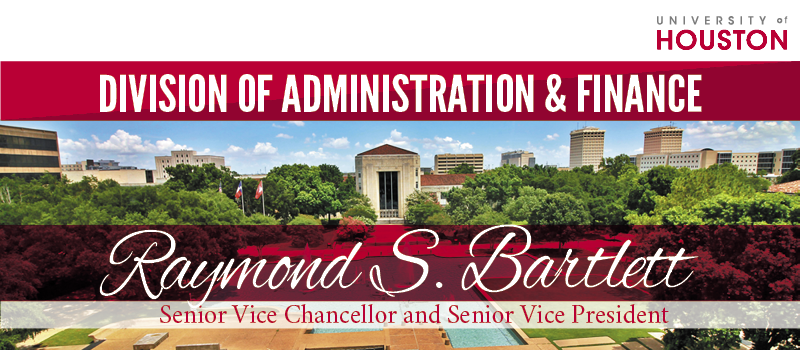 Comprised of Division features, accolades and achievements, as well as valuable "In Case You Missed It (ICYMI)" news you can use, each edition of the newsletter highlights key information and resources across the Division's departmental, operational and service unit areas. To subscribe to this listserv, click HERE.

Dear Colleagues,
In this month's issue, we celebrate our A&F student employees and their contributions to our divisional programs, services, and departments. Student employment is one of the key ways the division supports the university's strategic priority of student success. We know that on-campus employment offers many benefits to our students, including enhancing their campus involvement. I hope you enjoy reading our student employee profiles, and hearing directly from our students about their work experiences.
We also highlight special recognition for UH student Jimena De Los Reyes, who is currently UH's Coca-Cola campus ambassador, a program supported by Auxiliary Services. Jimena recently received a special honor from Coca-Cola, as company Rookie of the Year, for her work at UH.
This month, if you have the opportunity, please take the time to thank our student employees for their contributions to the division.
There are also a number of updates and accomplishments to highlight in this issue, including:
Payroll Department's move to Technology Bridge Building 1A, and their new Executive Director Roland Shaw, who joined the university on April 1.
Human Resources announcement of a new Employee Assistance Program (EAP) provider
Updates on the rollout of departmental package and mail lockers from Delivery Services.
Dates and deadlines for the annual property inventory and key audit process.
We are also featuring an article on the recent forums, sponsored by Human Resources and Staff Council that shared information on the new Alternative Work Arrangements (A.W.A.) Interim Policy. These sessions provided important information to the 935 employees who logged in virtually to learn more about the A.W.A policy and process.
This month, the division also recognizes our commitment to shared governance and the accomplishments of collaborative work with students, faculty, and staff at our up-coming A&F Advisory Committee Appreciation Reception on April 21. We value our partnerships with the Student Government Association, Faculty Senate, and Staff Council. Our programs and services benefit from the involvement of our community.
Finally, on April 27, please take time to share your appreciation with our campus administrative professionals, as we celebrate Administrative Professionals Day. We are grateful for our administrative professional staff and all that they do to support the division.
I am so grateful to each of you and all that you do to support our community. Thank you for bringing your best to your work every day.
Highlights & Features
A&F Celebrates National Student Employee Week

University of Houston students learn and live through numerous experiences during their time in college, with some – student employees – opting to take it a step further by supplementing their university life with real-life work experience.

April 5-11 is National Student Employment Week, please take time to thank our student employees in the division and across the university for all they do to contribute to divisional initiatives. Meet some of UH's student employees by reading our highlighted student employee profiles and gain insight into the reasons students value their on-campus work experience. Read more about the Administration and Finance students' work experiences.

Coca-Cola Student Ambassador Receives the Rookie of the Year Award

University of Houston junior Jimena De Los Reyes is a marketing major with a minor in management and leadership. And since Fall 2021, she's been Coca-Cola's UH campus ambassador.

Each year, Coca-Cola gives out a slate of awards dubbed Outstanding Ambassador Awards. Due to her tremendous work as a first-year ambassador, Reyes was named the company's Rookie of the Year.

Read more about Jimena's lifelong journey to work for Coca-Cola.

Recognizing UHPD Dispatchers on Public Safety Telecommunicators Week

The second week of April is designated as National Public Safety Telecommunicators Week to recognize the work public safety dispatchers do every day.

At the University of Houston, the police department employs 10 dispatchers, and they are the first point of contact when students and staff call for assistance. The calls received by UHPD include UH at Sugar Land, UH at Katy, and UH-Victoria. Learn more about what it takes to be a UHPD dispatcher.

UHPD Participates in Diversity and Safety Summits

On April 1, UH Police Department attended the 2022 Diversity Institute, Good Trouble: Allyship in Action summit presented by the Center for Diversity and Inclusion in collaboration with the Center for Student Involvement and the Women & Gender Resource Center.

The Gulf Coast Campus Safety Summit is the second summit attended by UHPD and University leadership. UHPD Chief Ceaser Moore presented at the safety summit with Toni Benoit, Assistant Vice-Chancellor and Vice President of Access, Equity & Diversity, Equal Opportunity Service.

Read more about UHPD's participation and engagement at the summits.

April is Sexual Assault Awareness Month

Since 2001, April has been recognized as Sexual Assault Awareness Month, otherwise known as SAAM.

At the University of Houston, the Office of Equal Opportunity Services (EOS) offers training on how to identify and report forms of sexual misconduct as well as how to respond to disclosures in a trauma-informed way.

To request training for your department, please visit the EOS website and submit the training request form. Learn more about sexual assault awareness.

Sustainable Merchandise Now Available at the UH Campus Store

This April, the Campus Store is celebrating Earth Day by featuring sustainability items in-store. Visit the UH Campus Store during April to check out the table at the front of the store showcasing sustainable t-shirts, water bottles, notebooks, and diploma frames!

Have Electronics to Discard? The E-Waste Recycling Drive Returns on April 22

On April 27, the Student Centers is offering an Electronic Waste Drive at the Student Center Circle Drive from 8 am to 1 pm.

The UH community is invited to bring any acceptable e-waste – except for UH tagged equipment – to dispose of it in the most environmentally friendly way. University of Information Technology encourages you to think green by focusing on computing in environmentally sustainable ways.

See the complete list of what items can and cannot be recycled at the Electronic Waste Drive.

UH Dining to Celebrate Stop Food Waste Day

April 27 is earmarked for Stop Food Waste Day, and at the University of Houston, UH Dining Services has plans to celebrate the day with an event dubbed 'Grate-Ful.'

'Grate-Ful' is scheduled for April 27 at Cougar Woods Dining Commons and runs from 11 a.m. to 2 p.m. with the bag packing scheduled to begin at 1:30 p.m. Volunteer with UH Dining Services to pack bags and band together to fill over 500 bags to donate to local food pantries to fight food insecurity. .

Human Resources Introduces a New Employee Assistance Program Provider

Human Resources is pleased to announce that beginning May 1, 2022, the University's new Employee Assistance Program (EAP) provider will be Deer Oaks EAP Services! Available to all UH benefits-eligible employees and their dependents, EAP services are confidential and offered both virtually and in-person in several locations throughout the Houston area.

Virtual Deer Oaks EAP orientation sessions coming soon!

UH is committed to the health and well-being of our employees and their family members, and encourages faculty and staff to utilize this important benefit.

A&F Leader Esmeralda Valdez Presents with Las Comadres Colleagues at Good Trouble: Allyship in Action Conference

Along with her colleagues in Las Comadres College Mentoring Program, Esmeralda Valdez led a session at the 2022 Diversity Institute's Good Trouble: Allyship in Action conference to bring awareness to the University of Houston's largest subpopulation of students – Latina undergraduates.

Learn more about allyship in action.

New Mail and Package Lockers Make Deliveries a Breeze

For the past two years, the University of Houston's Delivery Services Department has been gradually implementing a new method of delivering mail and packages to students and staff.

Read more about mail and package lockers.
Video of the Month - UH Dining Services Chef Excels at the NACUFS Culinary Challenge

Staff Spotlight
Congrats to A&F Cougar Cudos Honorees!

Cougar Cudos goes to Dan Corcoran, Monica Davila, Elicia Davis, Neil Hart, Abraham M. Thomas, and Richard Zagrzecki, who were honored by Staff Council for exceptional service to the University in March.

To nominate a fellow Staff member and learn more about Cougar Cudos.
ICYMI: News You Can Use
Alternative Work Arrangements are Here!

Human Resources and Staff Council hosted informational sessions on March 24 and March 31, attended by 935 employees, highlighting the new Alternative Work Arrangements (A.W.A.) Interim Policy.

Read more about Alternative Work Arrangements.

UH Payroll Lands A New Home and Payroll Director

In the first week of April, UH Payroll moved from the Student Service Center 2, to Technology Building 1A, located at Technology Bridge. April also marked the arrival of Payroll's new executive director, Roland Shaw.

Learn more about UH Payroll enhancements.

The Annual Key Audit is in Progress

The University of Houston is currently conducting its annual campus key audit. The six-week key audit is conducted annually by Key Access Services (KAS). This year, it began on March 7th with an expected end date of April 29th.

The audit reviews the keys that the university has issued while collecting unnecessary keys. Plus, it helps document any missing keys. Learn more about the annual key audits.

Property Management Annual Inventory Ongoing

The Property Management department began the annual inventory process in January with a completion date no later than August 31st.

There are several types of inventories, but when it comes to the University of Houston, the annual inventory means accounting for every capital and controlled item in operation. And the items range in everything from technological equipment to vehicles and office furniture. Read more about the ongoing inventory.

I SEE U with Eddie Robinson

In an eye-opening conversation, Eddie connected with a freelance writer who unearthed this untold story back in October of 2021. Ryan Lee published his article about Herndon in The Reckoning, a publication focused on thought-provoking, unique stories about Atlanta's Black LGBTQ+ community.

Tune in to this episode and follow us on Facebook and Twitter for more. I SEE U airs Saturdays at 1 pm on News 88.7 or you can stream online via www.iseeushow.org. #ISEEUshow

Houston Public Media Presents Houston Matter with Craig Cohen

Richard Linklater's new film, Apollo 10½: A Space Childhood, features a Houston adolescent dreaming of one day going to space in the 1960s. Linklater tells Houston Matters Craig Cohen, "What can I say? It's embarrassingly personal." Listen to Linklater's interview and other amazing interviews on News 88.7. Apollo 10½: A Space Childhood is available to stream on Netflix beginning April 1.
Events & Reminders
UH Campus Store Hosts the Graduation Celebration

Join the UH Campus Store on April 25, 2022, for Graduation Celebration! Students who have pre-ordered graduation regalia will be able to pick up their orders. Graduation photography for all students will be on-site!

Students who did not pre-order their regalia will be able to purchase in-store during the Graduation Celebration on a first-come, first-serve basis. Graduation accessories and diploma frames will be available in-store as well.

Visit the Campus Store for your graduation needs, regalia, and UH swag.

Administrative Professionals Day

April 27 marks the national celebration of Administrative Professionals Day.

Please take time on that day to share your appreciation with our campus administrative professionals.

Auxiliary Services Celebrates the Upcoming Groundbreaking for The Hub

Auxiliary Services will celebrate the start of construction of the University of Houston's new dining venue, The Hub, with a groundbreaking ceremony on Friday, April 22 at 11 am.

The Hub will replace the former Student Center Satellite. Once completed, it will be a two-story, 41,000-square-foot facility that will feature six food concepts, indoor and outdoor seating, and a second-floor patio.

Read more about The Hub Groundbreaking.

UH Dining Services to Create Sustainable Dishes in Celebration of Earth Day

The University of Houston's dining services has something special up their sleeves for Earth Day 2022. The annual Earth Day recognition, now in its 52nd year, is a day for people to support the preservation of our planet and natural resources. Earth Day falls on April 22, but Moody Dining Commons is celebrating the day a couple of days earlier. On Monday, April 18, the culinary team will prepare sustainable dishes and incorporate plant-based ingredients into their menu.

Finals Mania Returns at the UH Library, May 2

Finals Mania is back! To help students during their final exams, Finals Mania, sponsored by UH Auxiliary Services, Libraries, and the Dean of Students Office, provides evening breakfast from 6-9 pm in the M.D. Anderson Library, including pancakes, turkey sausage, snacks, beverages, and more!

Faculty and staff are encouraged to volunteer for this event. University divisions can sponsor a pancake station to serve students. If you would like to volunteer, sign the form.

A&F Advisory Committee Reception Returns April 2022

Administration and Finance Advisory Committees play a critical role in support of the university's shared governance approach. The Division will honor A&F Advisory Committee representatives in an in-person event on Thursday, April 21. Learn more about A&F Advisory Committees.
A&F Resources