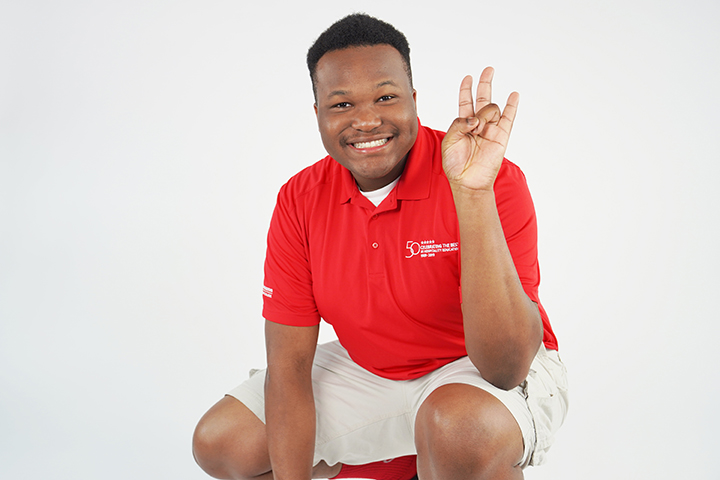 When Kevon was deciding where he wanted to live during his freshman year at UH, he was sure of one thing. He needed to live somewhere he could focus on his academics.  
"I decided to live on campus because in high school my family wasn't really financially stable, and I had to focus on working part-time and going to school.  I took A.P. and honors courses so it was hard to stay focused on my grades and work. I knew I needed to solve the situation.  So, when I was admitted to UH I decided to look into living on campus.  I saw that SHRL offered Living Learning Communities and that the average GPA of residents was 3.2. Honestly, that sold me." 
Living on campus definitely lived up to Kevon's expectations.  He says that his community has helped him stay focused, pushed him to work harder, and taught him that it's ok to have some fun.  
"After living on campus for almost a year, I can say that my favorite part is the community. Everyone on my floor is always studying and working which has taught me that I can sit down and talk and do work at the same time. 
If I hadn't lived on campus, I wouldn't have met the Resident Advisor adjacent to my hall who helped mentor me and expand my horizons. When I came to college, I wanted to only focus on my academics.  She helped teach me that it was ok for me to be a part of student groups and still focus on my school work.  If it wasn't for her, I wouldn't have applied for the position I now have on the Frontier Fiesta Executive Board. I also probably wouldn't have applied for the internship that I will be working this summer. And just yesterday I got the news that I was selected to be a Resident Advisor next year!" 
Kevon says he would recommend living on campus.  He believes everyone can benefit from the community that comes with this experience.  
"When I got here, I was aware of the stigma that UH is a commuter school, and it's difficult to have a social life. Living on campus has completely thrown that assumption out the window.  It has shown me that a social life, a support group, and a family is available here." 
If you're interested in living somewhere you can focus on academics and extracurriculars, check out our housing options here.