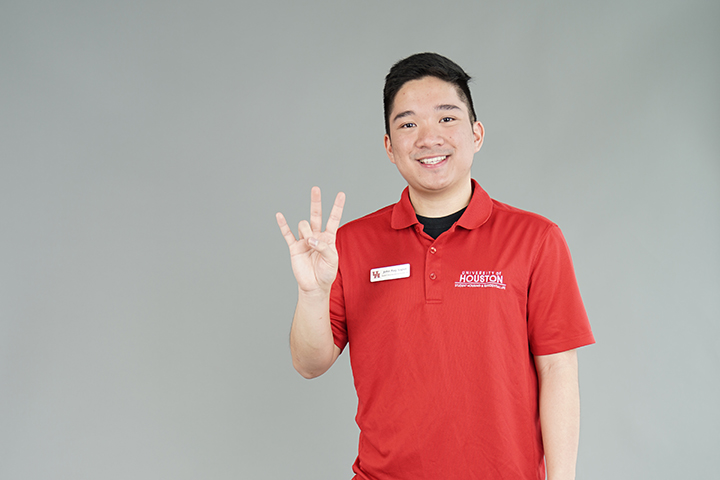 John is currently a Resident Advisor (RA) for Cougar Village II, the same residence hall he lived in as freshman. He learned about the RA position through his previous position as a Desk Assistant.  At the time, John had an off-campus job but decided that working exclusively for Student Housing and Residential Life was more convenient.  He says he is glad he chose to be an RA because he views it as a rewarding experience. 
"My favorite thing about being an RA is seeing my residents grow as people. I had one resident who was very shy at the beginning of the semester and ended up getting involved through our programs in Cougar Village 2. Towards the end of the year, I was selected for a position on the homecoming board." 
John says that being an RA has helped him develop his leadership skills and for that he is grateful.  
"I am currently responsible for 32 residents who look up to me as a mentor and every day brings new challenges.  I definitely think this is a skill that will benefit me after I graduate." 
John credits the convenience, sense of community, and social connections you get from living on campus for his and other residents' successes.  
"By living here, you have more of an incentive to join a campus organization and get involved, which makes you feel like you're a part of the community. 
Living on campus also allowed me to take more credit hours than if I was commuting.  I was actually able to take enough classes to add another minor to my degree because it's just so convenient and everything you need is right here. The convenience alone is enough to make me want to encourage others to live on campus. Academic resources, the diverse Houston food, and even a rock-climbing wall at the Rec! There's just nothing better." 
If you're interested in developing your leadership skills and getting involved by living on campus, check out our housing options here.