requirements
Moody South Tower Requirements:
First-year students are able to live in Moody South Tower. 
Moody North Tower Requirements:
Enrolled UH students who have sophomore standing or higher or are age 20 or older by Sept. 1 
For specific questions about housing availability or for questions about how to sign up to live on campus, please contact the Housing front desk at 713-743-6000 or email housing@uh.edu.
floor plan
Furniture sizes 
Moody Towers Beds are Twin Extra-Long 

38" W x 

80" L

Three Drawer Chest, 30"W x 24"D x 30"H
Desk, 42"W x 24"D x 30"H
Standard Desk Chair
Appliances Included
Mini Refrigerator/Microwave combination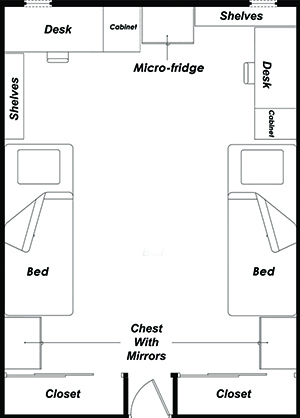 AMENITIES, FEATURES & VIRTUAL TOUR
24-hour information desks and security
Secured access to the building
Free laundry facilities
Community-style bathrooms
Computer lab
Cyber Lounge
Fresh Food Dining Commons
TV lounges
ATM by North Tower entrance
Exercise room
Pool tables
Micro-fridge
Fully furnished
ADDRESS AND MAIL INFORMATION
All your mail and packages are sent directly to your residence hall. For more information about parcel delivery visit the Parcel Delivery FAQ.
RESIDENT'S FULL NAME
ST, MAILBOX # [  ]
4401 COUGAR VILLAGE DRIVE
HOUSTON TX 77204-7003