requirements
Enrolled UH students who have sophomore standing or higher or are age 20 or older by Sept. 1 may choose to live in Cougar Place. Cougar Place is also home to the Cougars in Recovery, Gender Diversity and Medicine and Society communities.
For specific questions about housing availability or for questions about how to sign up to live on campus, please contact the Housing front desk at 713-743-6000 or email housing@uh.edu.
Floor Plan
Bedroom furniture -
Beds are Full (Dimensions are 53" x 80")
Three Drawer Chest, 30"W x 24"D x 30"H
Desk, 42"W x 24"D x 30"H
Standard Desk Chair
Living room furniture -
Loveseat 
Standard Coffee table 
Appliances Included -
Fullsize refrigerator
Microwave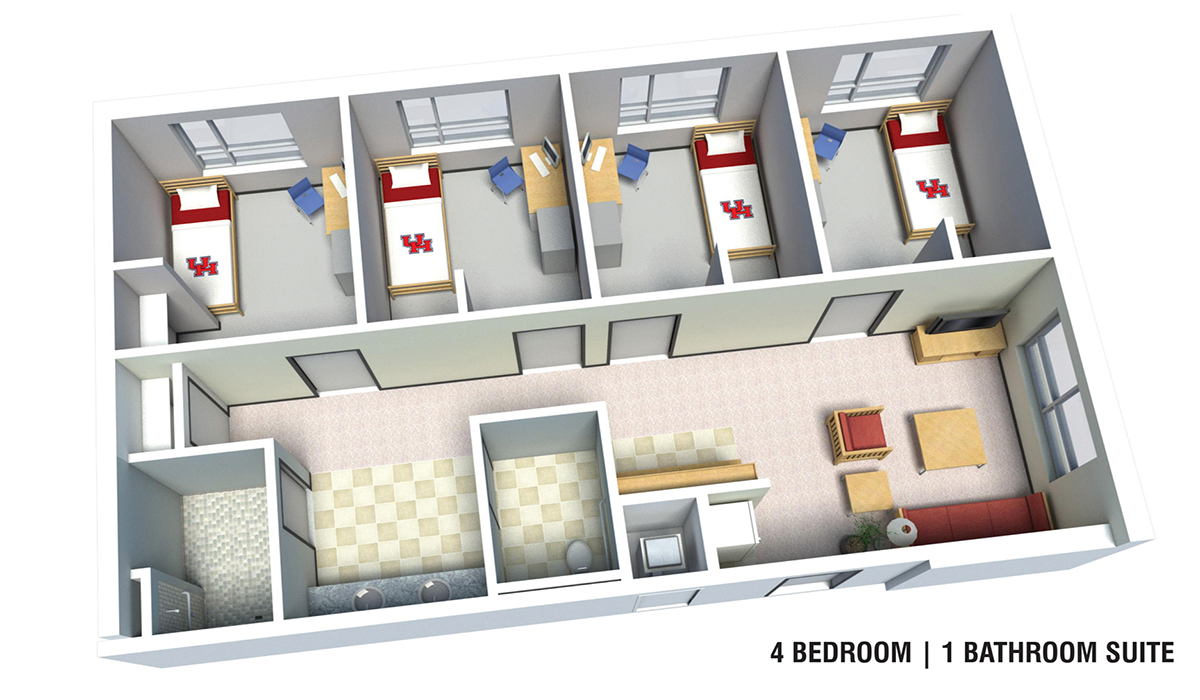 AMENITIES, FEATURES & VIRTUAL TOUR
Suite-style living (4 students per suite, each student assigned their own bedroom)
Private bedrooms
Computer room
Free laundry facilities
Fitness area
Lounge area with 5 televisions and 2 pool tables
Wired/Wireless Internet
ADDRESS AND MAIL INFORMATION
All your mail and packages are sent directly to your residence hall. For more information about parcel delivery visit the Parcel Delivery FAQ.
RESIDENT'S FULL NAME
CP, MAILBOX # [ ]
4016 CULLEN BOULEVARD
HOUSTON TX 77204-7006