Associate Dean Stuart Long Wins Esther Farfel Award
Written by Richard Bonnin, Michael West, and Karen Weber

Recognition for excellence has become the norm for Stuart Long, who was honored a year ago as the first winner of the Teaching Excellence Career Award. This year, the professor of electrical and computer engineering's talent and dedication are being recognized with an honor of even greater significance.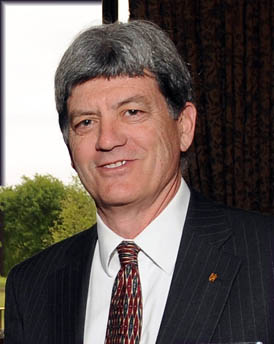 Long is the 2010 Esther Farfel Award recipient – the highest honor that can be accorded to a University of Houston faculty member. The award, a symbol of overall career excellence awarded annually since 1979, carries a cash prize of $10,000.
Long is currently associate dean of undergraduate research at The Honors College.  He also teaches a variety of undergraduate and graduate-level classes in applied electromagnetics, including electromagnetic waves, antenna engineering and microwave engineering. 
In a letter of support from a nominator outside of the University of Houston it was written that Stuart Long "is one of the leading authorities in Electromagnetic Research and Education because of his pioneering contributions in research and novel techniques in education. He certainly has made a lasting impact in our profession, and he has brought much recognition to the University of Houston and the students that he has mentored."
"It must be noted that for almost every year he has worked here at the University of Houston, he has also served as an administrator, a significant time burden," professor and department chair Haluk Ogmen wrote in his letter of nomination. "Even with this major commitment, he is productive in terms of research expenditures, graduate students advised and publications. In addition, his new forays into engineering education research promise results that will mark the University of Houston as one of the innovators in engineering education. It is hard for me to imagine someone who has devoted more of his or her life and energy to the University of Houston and to its students and programs."
"Dr. Long's teaching record is without parallel in my experience," Ogmen said. "He has garnered every significant award for teaching available to him. The respect that he has earned from his students is highly deserved.  In 35 years of teaching, Dr. Long has never canceled a lecture due to ill health or personal problems." The depth of his commitment to his students was seen this past January, when he had back surgery. Rather than cancel his lectures, he arranged for another faculty member to take his classes for a week.
Stuart's dedication to his students has been recognized through several teaching awards, including the Halliburton Award of Excellence, the University Teaching Excellence Award, the Engineering Alumni Association's Distinguished Faculty Award, and the Alumni Organization's Outstanding Faculty Award.
Long, born in Philadelphia, graduated from high school in Snyder, Texas, before earning multiple degrees from Rice University and a Ph.D. in applied physics from Harvard in 1974. That year, he joined the faculty at the University of Houston, and has served at different times in several leadership positions, including chair of the department of electrical and computer engineering, associate dean of the College of Engineering, and interim dean of The Honors College. 
"Stuart is one of the most dedicated and hardworking individuals I have ever had the pleasure of working with," said Karen Weber, director of the Office of Undergraduate Research. "He is genuinely committed to advancing undergraduate education at the University. On any given day, you will find Stuart jetting from one building to the next on campus, to chair a committee, teach a class, serve as a reader on an undergraduate thesis committee, and making it just in time to an after-5 p.m. student organizational meeting. His energy is endless and commitment unwavering."