A New Season of Innovation
By Robert Cremins
April 5, 2023
Soon it will be time again for Summer in the City. Any UH undergraduate student can enroll in this course and become part of the second student cohort to learn in the remarkable environment of the Ion building. The Ion is the hub of the Ion District — Houston's new Innovation District. The building itself is a stunning example of creative repurposing, a subtle contemporary architectural reinvention of the late 1930s midtown Sears store.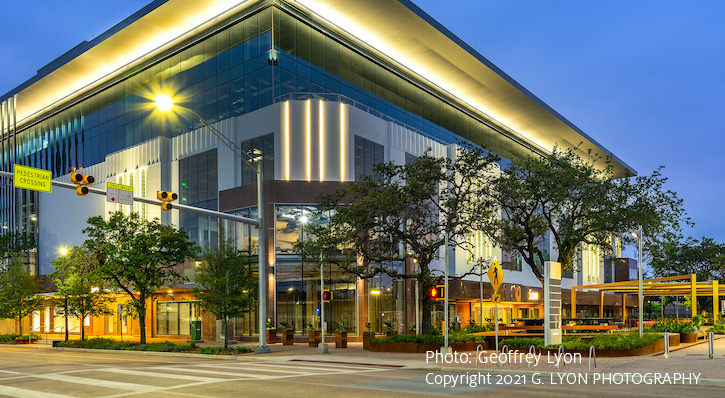 Christine Galib, senior director of entrepreneurship and innovation at Ion, teaches the class and brings to it questions that are of vital interest to Creative Work, a pre-professional program administered by the Honors College. What is creativity? How does studying it inform our perspectives of our entrepreneurial strengths and skills, ultimately positioning us to be sustainable change leaders no matter what careers we pursue? 
Using a mixed-media approach, Galib inspires students to investigate creativity, innovation, design thinking, self-awareness, leadership, mindfulness and systems thinking. The course culminates at the Ion's social stair with a showcase presentation by each participant of a real-world solution to a challenging Houston problem.
Last year's inaugural Summer in the City class made such an impression on two of those participants, Camille Anigbogu and Sophia Wilson, that they successfully applied to become Ion Student Ambassadors. "It was an amazing experience," Anigbogu said. "The Ion is still relatively new [and] it was cool to be in a space that was part of Houston history. Sometimes after our class there would be Ion events, so I'd get to hear from speakers who are involved in technology or different art projects." 
Anigbogu particularly appreciated having access to the Ion Prototyping Lab. "In this lab, there's the space to 3D print any ideas [students] have and other machinery where they can prototype things they have ideas for — products, technology. It's also a place to get mentorship." 
The Ion experience helps bridge the famous gap between the two cultures of the academy, the sciences and the humanities. "As a creative person who is also a political science major, and therefore not really a tech or STEM person, I still felt very valued," Wilson said. "[I felt] that my type of intelligence and sensibility were valued in this world, and that the tech world is broadening in the same way that the idea of [creativity] is broadening. [In the class] we got to have this nice overlap. It's not something that I had thus far in my creative education." 
Moreover, Anigbogu and Wilson both enjoyed the networking events they attended and continue to attend. They hope fellow UH students will follow in their footsteps and become part of the new summer cohort at the heart of our city's innovation culture. "The Ion wants to connect more students to resources," Anigbogu explained, "not only at the Ion, but also other tech and entrepreneurship resources in Houston." Reflecting on the first Summer in the City, Wilson said, "It was so out of my comfort zone, but so within my potential. [I was] surprised at how capable I was." 
Students wishing to explore their creative potential and capabilities in summer 2023 should note that this is a Session One course (June 5 to Aug. 11). Classes will meet at the Ion, located at 4201 Main St. in Midtown, on Thursdays from 3-7 p.m. The course counts toward both the Creative Work and Global Engagement and Research minors. 
For full enrollment details, please see page 35 of the current Honors Coursebook.