Elizabeth Dennis Rockwell Biography
Elizabeth D. Rockwell, née Mary Elizabeth Dennis, was born on May 19, 1921 in Houston, Texas. She traced her Texas roots back at least three generations to her great grandfather, George A, Christie, who arrived in Galveston, Texas from Scotland in 1858.
Elizabeth's remembrances of her grandparents, George and Elizabeth Mary Christie, include a harrowing account of their experience during the Great Galveston Storm of 1900 as well as happier memories of traveling with her grandfather by train to California. Her grandparents moved to Houston after the Great Galveston Storm and George worked for the Kirby Lumber Company. Their daughter Nezzell Christie married Robert Dennis in 1920, and Elizabeth was born a year later.
When Elizabeth was in grade school, she found another Mary Elizabeth - Mary Elizabeth Armstrong – in her class. The two girls decided they need to find a way to make sure the teachers didn't confuse them. Mary Elizabeth Dennis said that since her last name was short, she would keep the long middle name of Elizabeth and be known as Elizabeth Dennis. Since Mary Elizabeth Armstrong's last name was long, she would keep the short first name and be known as Mary Armstrong. And so Mary Elizabeth Dennis came be known forever after as Elizabeth Dennis.
Elizabeth enjoyed a rich social life with many friends throughout grade school and into her 20s. She began in Ms. Daingerfield's Kindergarten and later went to River Oaks Elementary.  She transferred from San Jacinto High School to be part of the first graduating class at Lamar High School in Houston and in 1938 began college at the University of Houston.  During a geology class with only 2 females, the male students challenged Elizabeth to get into Rice.  Elizabeth saw no challenge and made the transfer.  At Rice she promptly took every business course they offered.  Then she left Rice and returned to UH.  Elizabeth said that UH had more business professors and more business classes and at that time was just a better place to study business. 
When the war began, Elizabeth felt it would be the only opportunity in her lifetime to get into the business world and work her way up to an executive position. In 1944, she began this journey with a job at Shell Oil which led in 1945 to the accounting department at Standard Oil. "At this time," she later recalled, "the women's movement had not started, and women in the workforce were generally teachers, nurses, and clerks." Working in business had been her lifelong dream.
In 1951, Elizabeth married Walter V. Rockwell, Jr. at St. Paul's Methodist Church in Houston. Soon after the wedding, Walter learned that he had been transferred to the Northeast. While in Boston, Elizabeth volunteered at the Christian Science Headquarters.  She had fond memories of working with Carol Channing's father who was an executive administrator at the time.  After several years in Virginia, Boston, and Pittsburgh, Elizabeth returned home to Houston in 1954 and returned to work in the energy industry.
In 1967, Elizabeth took a job at Heights Savings Association with Houston legend Marcella Perry where she found her true professional calling. She quickly learned the details of Keogh Retirement Plans, which allowed self-employed individuals to contribute into tax-deferred retirement accounts, and later became an early expert in IRAs (tax-advantaged Individual Retirement Accounts). She gave presentations on Keogh Plans and IRAs across the country through the 1970s, twice testified before Congress, and had one of her talks entered into the Congressional record by Congressman Bill Archer of Texas in 1978. As Elizabeth stressed in her talks and her work, Keogh Plans and IRAs were "tricky" and required a thorough understanding of the law. Elizabeth used her ample understanding of these plans to put, in her words, "needed dollars in the pockets of individuals retiring." She was, as one of her friends remembered, "a hard charging woman before there were hard charging women in the Biz."
In 1982, Elizabeth joined John Phillips and Charles Fahy at Oppenheimer's Investment Planning Group  where she served as the Executive Director of the Private Client Division and cemented her reputation as an expert in retirement, estate, investment, and tax planning. While much of her success in investment planning can be attributed to her sharp mental acumen and good business sense, some must also be credited to her people-oriented approach to financial management. "Liz loved people," one of her friends noted. Elizabeth saw it as her job to make sure people could take care of themselves financially. Many people came forward at her memorial in 2011 to thank her for her insightful financial guidance and, in a couple of cases, for saving their families from financial ruin.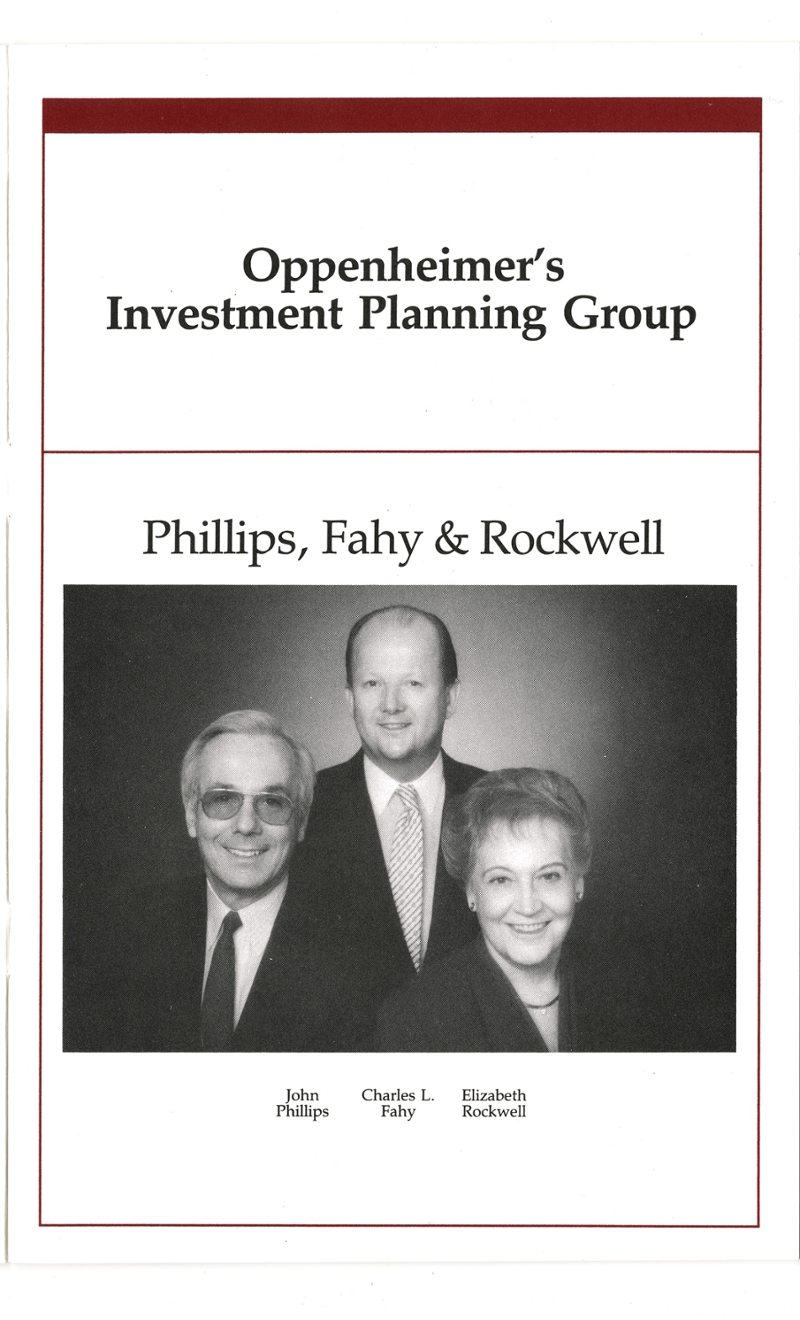 Elizabeth had many interests outside business. She had a lifelong fascination with NACA (the National Advisory Committee for Aeronautics) which in 1958 became NASA. Her fascination only grew when she discovered that her mother was friends with Alan Shepard's mother-in-law and then that NASA headquarters were to be located in her beloved hometown of Houston, Texas. During her time at Heights Savings, Elizabeth drafted the Heights Civic Association Bylaws and became active in local events. Elizabeth was an active supporter of the Houston Forum and filled a table for each lecture with Houston CEOs. Elizabeth further harbored a great love of history beginning with the Great Storm in Galveston and pledged to put books about the Storm in every school library in the city of Galveston.  Along with her grandmother and mother, she and was a lifelong practicing Christian Scientist.
Elizabeth's philanthropic work was a reflection of her love of people. She had long been involved with non-profit educational organizations, dating back to 1950 when she joined the fledgling Houston Chapter of the Desk and Derrick Club, an educational organization for women in the oil industry. In the 1990s, she turned her attention to the University of Houston, helping to establish the Elizabeth D. Rockwell President's Suite in the Houston Alumni Center, the Elizabeth D. Rockwell Career Services Center in the C.T. Bauer College of Business, the Elizabeth D. Rockwell Collection in the MD Anderson Library, and the Elizabeth D. Rockwell Pavilion in the M.D. Anderson Library. She also created endowed Chairs for the Dean of Libraries, Education, and Engineering. Her love of politics led to sponsoring "Red and White", a show on KUHT Channel 8 about legislative activity during legislative sessions.  From 1996 to 1999, Elizabeth underwrote 48 lectures at UH called "Discover UH" featuring professors on campus talking about their area of expertise. These lectures were widely attended by Houston CEOs because they knew "the lecture would begin and end on time" during the lunch hour.  In addition, Elizabeth underwrote showcasing these lectures on Access Houston and on the HCC Television Channel.  The series won two Producer Awards from Access Houston.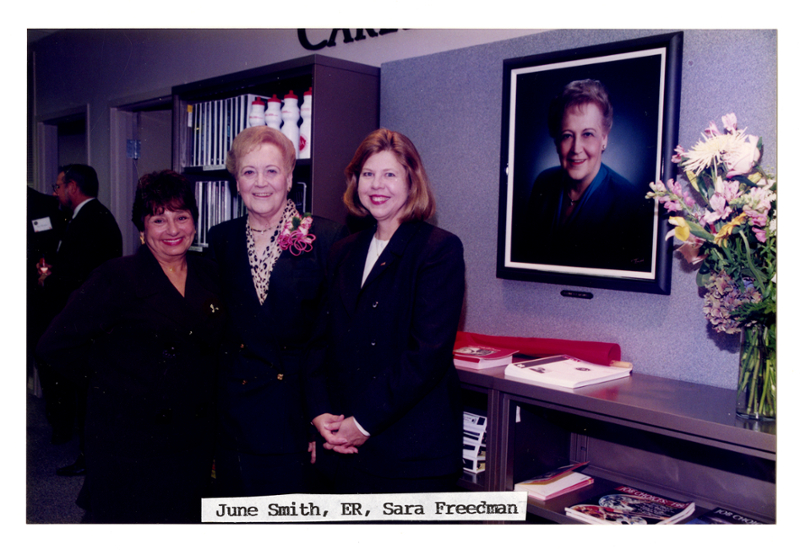 The Dennis and Hobby families' lives were intertwined from Elizabeth's childhood. When she was six, her grandfather formed a business partnership with William Hobby, Sr. During the last couple of decades of her life, she and Governor Bill Hobby's paths crossed frequently at University of Houston events.
Elizabeth was an energetic leader who mentored untold numbers of individuals. She was also a deeply caring person who believed in the importance of honesty, trust, and open communication. During the last years of her life, she turned her sights to creating a Center that would make the University of Houston a nationally recognized hub for the study of ethics and leadership. Thus was born the Elizabeth D. Rockwell Center on Ethics and Leadership at the Hobby School of Public Affairs.
Elizabeth Rockwell's Memorial Service: A Celebration of Life:
Nancy Clark's Celebration of the Life of Elizabeth Rockwell.