Doctoral Progam in Exercise Physiology

Ph.D. in Kinesiology with an emphasis in Exercise Physiology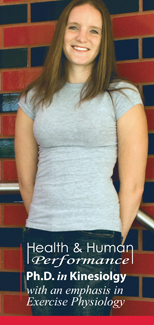 View brochure
This emphasis provides students with the experimental, theoretical and analytical tools necessary to investigate the basic processes and mechanisms in exercise physiology.
The Ph.D. in Kinesiology with an emphasis in exercise physiology program is designed for students interested in:
Skeletal muscle physiology
The impact of exercise and other stressors on the immune system, healthy aging, and/or cardiovascular disease
Mechanistic links between obesity, accelerated biological aging, and immunological dysfunction
Research careers in academia, industry, foundations, or government.
Exercise Physiology Faculty
Dr. Emily LaVoy

My research focuses on understanding how acute and chronic exercise impacts the immune system. In particular, my research investigates the mechanisms underlying changes in immune cells that have been observed following acute exercise, such as changes in lymphocyte function. Ultimately, I am interested in harnessing the beneficial effects of exercise to manipulate immune responses in human populations, such as in older adults and cancer survivors.   
Full profile and publications

Dr. Melissa Markofski

Dr. Markofski studies the acute and chronic effects of exercise and nutrition (specifically, dietary protein) on muscle function and biomarkers associated with disease risk. She has a specific interest in monocytes and inflammation and their impact on muscle and adipose tissue. Dr. Markofski uses molecular techniques and clinical and functional outcomes to develop evidence-based exercise and nutritional strategies for reducing the risk to develop chronic diseases and promote healthy aging.    
Full profile and publications

Dr. Yoonjung Park

Research efforts focused on 1) Investigating the role of physical activity and exercise training in preventing or ameliorating vascular dysfunction in pathophysiologic conditions such as obesity, type 2 diabetes, ischemic heart disease, hypertension, aging (Alzheimer), microgravity, etc. and 2) Elucidating the mechanisms in which vascular function is altered by the sequelae of the diseases and physical activity/exercise training at the molecular, cellular, and intact tissue levels (isolated intact microvessels).
Full profile and publications

Dr. Richard Simpson

Effects of exercise, age and disease on immune function. Physiological demands and performance indicators of soldier load-carriage performance.
Full profile and publications
The Laboratory of Integrated Physiology (LIP) is a fully equipped human performance/physiology/biochemistry laboratory capable of performing a wide variety of human performance testing, including exercise testing, muscle strength assessment, motor co-ordination/motor performance testing, learning/memory assessment and biochemical analysis of biological samples.