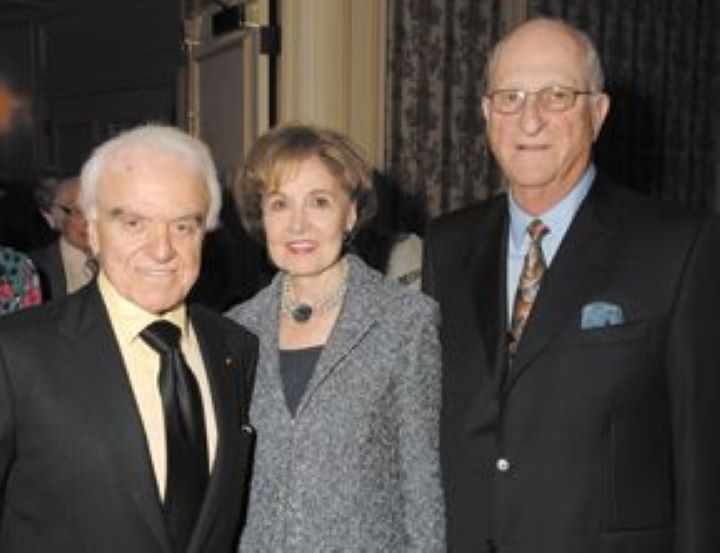 Connections made through the Jack J. Valenti School of Communication are friends, family and coworker bonds that can last lifetimes. As for Valenti himself, some of the connections he made over the years led his school to have the donors they do today.
The Lorraine and Ted Dinerstein Endowed Scholarship Award was formed through the connection of Valenti's sister as well as his brother-in-law to help communication students along their journey at UH.
Lorraine Dinerstein's son, Tom Caltagirone is semi-retired as a partner of the Dinerstein Company where his son and another partner's son are running it now.
"Ted was always a proponent of Houston, the University of Houston (as well as) the hospital system here," Caltagirone said.
Part of Ted Dinerstein's work was with the Greater Houston Convention and Visitors Bureau on their board of directors. He helped to create marketing packages that went out to various companies to sell the idea of the city of Houston so businesses could relocate, Caltagirone said.
"Ted always said he wanted Houston to be known for a town of diversified business rather than just the oil business," Caltagirone said. "That was one way he promoted the city to other businesses."
The Dinerstein Company not only stems from branches of construction around Houston but charity work as well.
"One of the things that Ted Dinerstein really believed in was community support," Caltagirone said.
The construction company has worked with organizations like the KIPP school where they built playhouses as well as nonprofits such as BE a Resource and Casa de Esperanza.
The tie between the Dinerstein family and the film industry was most noticeable in the connection to Jack J. Valenti himself. Valenti was in the Motion Picture Association of America for 38 years and acted as President while he was there.
Jack J. Valenti was the older brother to Lorraine Dinerstein and was Caltagirone's uncle.
"Ted and Jack got along great from day one," Caltagirone said. "They were good friends, as well as family."
Creating a name and connections in the industry started for the family around 1966 when Valenti joined the MPAA. Valenti helped grow the film business from national to international, and worked with Congress to enact laws that would benefit the movie business around the world, Caltagirone said.
"Jack Valenti was an impressive man. He was the best public speaker I've ever heard," Caltagirone said. "I was on a program with him one time where there were several people that were going to speak and they asked me to speak."
"I said I'll be glad to under one condition. I do not follow Jack Valenti," Caltagirone continued. "He was that good. You did not want to follow him."
Both Valenti's daughter and son have been, and still are, in the movie business to this day as another connection between the family and the field of communication.
Caltagirone was pitched the idea of starting an endowed scholarship in the name of his mother and stepfather to benefit students at the Valenti School of Communication about six years ago.
"I thought it was a great idea. I jumped all over it," Caltagirone said. "In addition to that, I told them I would do them one better."
Caltagirone's idea was to create a donation for the students at UH to make a film with the funds and sources provided.
"I want these students to have a hands-on experience of actually making a movie," Caltagirone said.
As a graduate of the University of Houston himself, Caltagirone said he wants each student that graduates from UH to feel proud of the degree they receive.
"I feel very strongly about this. I think UH is a great school," Caltagirone said. "I had a great education and a great experience there."