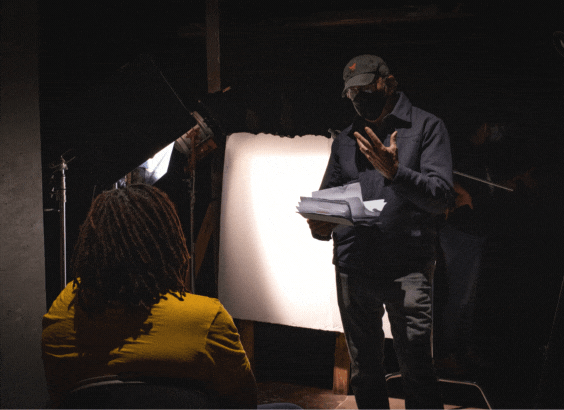 Hollywood director Micheal Grossman and media production professor Keith Houk are marking their ninth year of working together, but this year's collaboration is far from business as usual. Driven by a shared passion for film and teaching, these two industry veterans are overseeing the semester-long creation of "After the Fall," a student-produced and -edited film. 
"It has been amazing from start to finish. It's been this growth that's been happening," Houk says. 
Although this is not Grossman's first time working with Houk or media production students at the Valenti School of Communication, this is his single-longest stretch to date. In the past, the "Grey's Anatomy," "The Originals," and "Pretty Little Liars" director came to campus for a week and actively worked with students. This year, however, Houk pitched a new, distance-learning format that would allow Grossman to work with students throughout the semester. 
"When the fall semester was getting started, the pandemic was in full swing and it was obvious there was only going to be distanced learning. Keith came to me and said, 'Why don't we talk about something we could do for the spring semester. We could do an entire production and you could work remotely in prep, and then come out and shoot,'" Grossman says. 
The structure of the class followed a similar, if not identical, format to production procedures in the film and television industry, as the pandemic has rewritten Hollywood's process. Students volunteering and mentoring each other aided in the dynamic learning of the class and production of the film. 
"They know they can walk on any set - any professional set - and be at home and not be lost," Houk says.
According to Houk, many students volunteered up to six days of their Spring Break for the actual filming process. The opportunity to finally shoot the scenes was too good to miss out on. 
"The students actually made themselves available. That wasn't a requirement. They were so into it - so positive about the process," Grossman says. 
Challenges with the budget, manpower, and moving equipment were all overcome through collaboration with faculty, staff and students in the UH School of Theater and Dance. Motivated by their desire for gaining real-world experience, the department's actors and stage managers-turned-assistant-directors were all a part of the project. 
"Getting the theater department involved is so important. We don't have lots of toys to make big fancy shots. What we need is a good performance," Grossman adds. 
Despite the semester's challenges, the students' commitment to completing the project persisted. Even the winter storm that hit Houston in February did little to halt their momentum. Instead, the shared passion for this project and the opportunities it holds served as motivators. 
"After the Fall," is currently in post-production. Taking place years in the future, it follows characters living in a dystopian-like world where a power struggle between groups ensues and causes a righteous movement of resistance. Although the release date has not been set, the film is expected to premiere at the end of the spring semester. 
In the meantime, Grossman has at least one insight he hopes all his students leave the class with: "You don't need a friend to get into the film business."