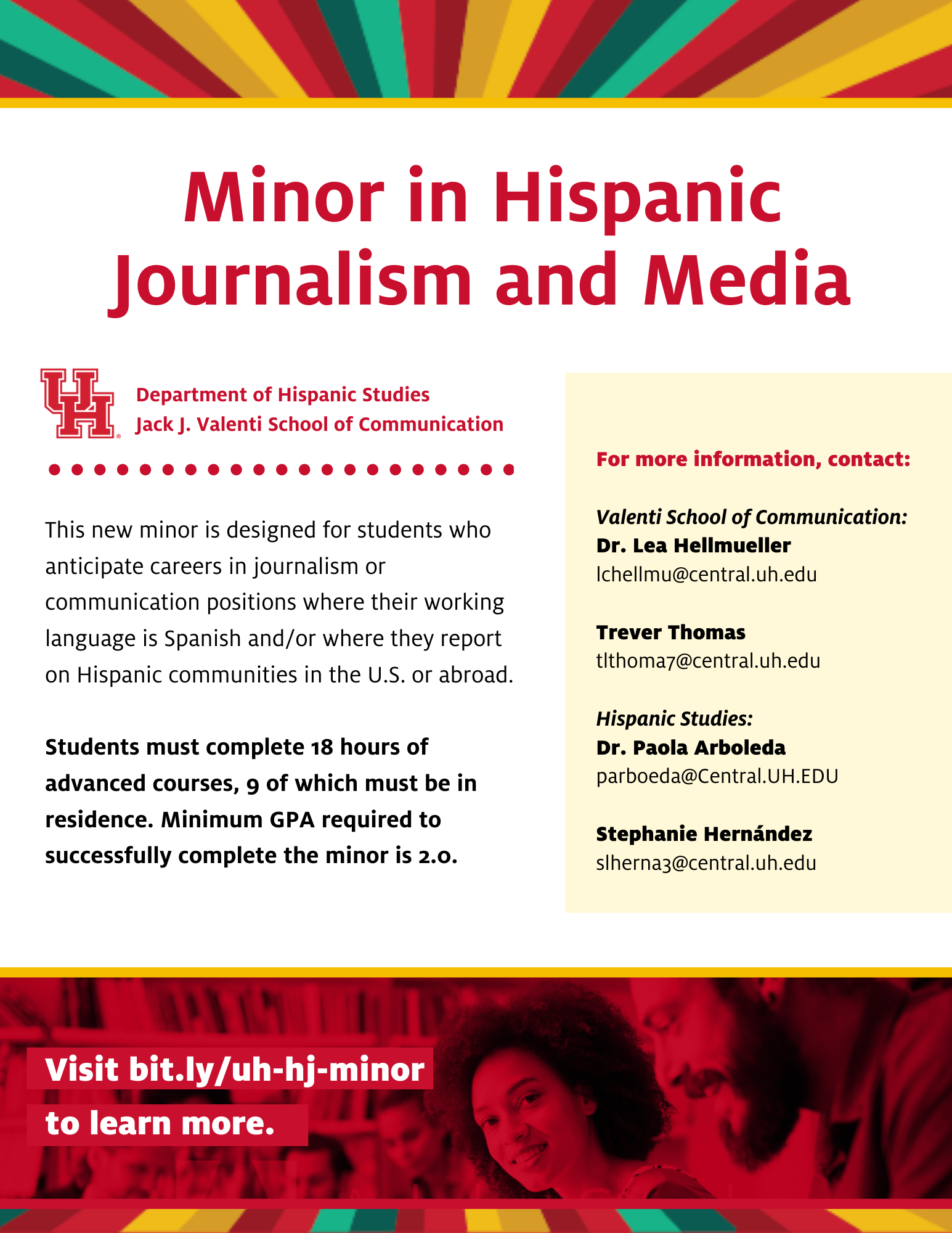 Effective fall 2020, the Jack J. Valenti School of Communication houses a new minor: Hispanic Journalism and Media. This minor will cater to students who anticipate careers in communication positions where their working language is Spanish or where they report on Hispanic communities in the U.S. or abroad. This minor is also designed for students who wish to continue the study of the Spanish language and culture, specifically for journalistic and communicative purposes. 
The Hispanic Journalism and Media minor focuses on three elements: language-learning, culture and communication. Students will be required to take advanced Spanish language classes, with non-heritage learner and heritage learner tracks that cater to each student's prior experience with the language. They will also take cultural history classes that deepen their knowledge of the issues and customs of Hispanic communities. 
"There is a need for more in-depth education of Hispanic journalism, as they are the largest minority in the United States and our university is a Hispanic-serving institution," said Dr. Lea Hellmueller, assistant professor at Valenti School of Communication. 
Dr. Hellmueller and Dr. Guillermo De Los Reyes, associate professor of Latin American Culture and Literatures and director of undergraduate studies, have worked together for the past three years to create the program. With additional help from Dr. Paola Arboleda, Instructional Assistant Professor and Professor María Elena Soliño, Department Chair of Hispanic Studies, these faculty members endeavored to create a communication minor that would dive deeper into Hispanic culture and raise sensibilities on issues that affect the community today. 
"There is still an underrepresentation of Hispanics in the media as well as in English-language newsrooms," said Hellmueller. "Our main philosophy behind the minor is to help better represent Hispanics in media." 
With the Hispanic Journalism and Media minor, students will be able to better prepare themselves for jobs within Spanish-speaking news organizations such as Univision and Telemundo. They will also be able to take their knowledge onto any news organization, such as the New York Times, ABC, CNN, or Fox News, contributing to stories in English with a strong understanding of the Hispanic community. 
"This new minor in Hispanic journalism will give our students the necessary tools to succeed in a competitive field and would help them to understand the complex issues that the Latinx community faces in the U.S.," said De Los Reyes. "The Valenti School of Communication and the Hispanic Studies Department are joining forces to provide a minor in Hispanic Journalism and Media that is much needed not only in the University of Houston, but at the Houston community at large."
Although the Hispanic Journalism and Media minor is housed within the Valenti School of Communication, advising appointments will take place within the Hispanic Studies department for those students who need more information about the classes offered in Spanish. Communication majors can speak to a Valenti advisor to declare the minor and then receive advising from Hispanic Studies advisors for further instruction.
"We trust that this new minor will attract students who are looking to develop their English-Spanish bilingual skills combined with professional journalism training," said Dr. De Los Reyes.  
Dr. Summer Harlow, an associate professor of journalism, and Dr. Dani-Madrid Morales, an assistant professor of journalism, will join Hellmueller in teaching the first batch of communication courses within the minor. Some of the classes to be offered include Latino Journalism, Latinx Media Studies and Reporting on Immigration, Hispanics and Data.