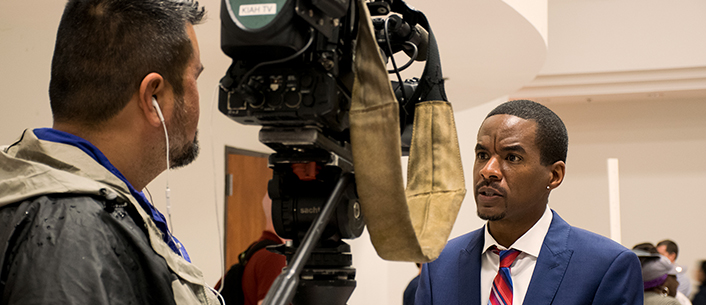 The Office of Communications helps facilitate media interviews and provides timely information about the College of Education. Our faculty have a wide range of expertise in education and health and can provide context and insight on newsworthy happenings.
Recent Media Mentions
Assistant Professor Leslie Frankel shares insights on why middle children are increasingly rare, especially in inner-Loop Houston.
Associate Dean Jon Schwartz shares research-based advice on bullying and the critical aspect of prevention.
Associate Professor Bradley Carpenter talked to Isiah Carey about the importance of mental health care in schools in the wake of a bullying tragedy in Colorado.
Associate Dean of Research Ezemenari Obasi weighs in on the trauma of Hurricane Harvey and how UH worked to help students (subscription required).
UH alum Stephanie Rice, the College of Education's First Lecture speaker and a former contestant on "The Voice," discussed how music helped her cope after she came out.
Department Chair Lorraine Reitzel shares how the new partnership is designed to address health disparities among black and Hispanic populations.
Department Chair Lorraine Reitzel speaks about the UHAND Partnership, a new collaboration between UH and MD Anderson that she co-directs.
Associate Dean Jon Schwartz discusses the importance of creating safe school climates for students to report bullying.
Department Chair Cathy Horn shares insights into why schools impacted by generational poverty may struggle under state accountability systems.
Associate Dean for Research Ezemenari Obasi discussed UH's work to curb diabetes in traditionally underserved communities.
Counseling psychology professors Nikki Coleman and Jon Schwartz offer suggestions for addressing systemic racism.
Clinical Associate Professor Margaret Hale discusses the importance of authentic reading to improve student learning.
Dean Bob McPherson comments on chronic stress post-Harvey and the uncertainty over school accountability ratings.
Associate Professor Bradley Carpenter shares research and insights on stability in educational leadership.
Associate Dean of Research Ezemenari Obasi discusses his work to help surrounding communities, and how Hurricane Harvey provided an opportunity to collect new data on stress.
Clinical Assistant Professor Justin Burris discusses how to deal with a classroom tragedy like the Parkland, Fla. shooting during his Mathematics for Elementary Teachers class.
Clinical Associate Professor Paige Evans talks about the teachHOUSTON program and how it prepares students to become secondary math and science teachers.
Associate Dean Jon Schwartz shares his expertise on bullying in schools.