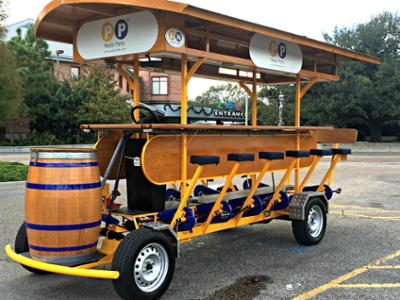 Pedal Party has become a gold sponsor to Sustainability Fest, which takes place Tuesday, Nov. 17, in Lynn Eusan Park at the University of Houston.
Pedal Party received gold status for its donation of a gift card toward a two-hour rental of a 16-passenger Pedal Party bike.
The Pedal Party bike is a non-motorized rental vehicle that is operated by pedal power. Originally invented in Amsterdam, where it's called The Fietscafe, it's similar to a party bus, only operated by the pedaling done by the passengers instead of an engine. Groups can rent the vehicle for birthdays, anniversaries, picnics and group outings. Each bike can hold up to 16 passengers.
Hosted by the Office of Sustainability, Sustainability Fest offers the UH community practical information about how to live sustainably in a fun and entertaining setting, while also highlighting sustainability initiatives across campus and the city. Pedal Party's donation will be one of several prizes available for attendees to win at Sustainability Fest.
To reach gold sponsorship status, sponsors must donate monetary or prize items worth between $251 and $500. There are four sponsorship status levels for Sustainability Fest:
Bronze Level: $25 to $100
Silver Level: $101 to $250
Gold Level: $251 to $500
Platinum Level: $501 and above
For more information about Pedal Party, visit its website at www.pedal-party.com. To learn more about Sustainability Fest, go to www.uh.edu/sustainfest.