A Fort Bend County Cohort and the Value of Online Learning
August 4, 2023
By Chris Becker
"Social workers strive for social justice, and to create a world that is equitable and accessible to all," said Virginia (Ginger) Lucas, clinical associate professor at the University of Houston Graduate College of Social Work. After completing undergraduate work, Lucas pursued a master's in social work, which put her on a path to work with people who shared those ideals.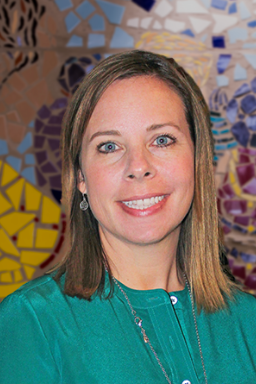 "The value base of the profession matched something that was inspiring to me," she said. Her role as director of online and hybrid programs at the college aligns with those values, and, since 2015, so has the Sugar Land instructional site. A large percentage of the college's students lived in Fort Bend County, prompting the GCSW to pilot a hybrid master's degree program for a Sugar Land cohort.
"The first cohort was fall 2015 and we had 18 students at the Sugar Land campus," she said. "Each year, we admit between 25-55 students to our Sugar Land hybrid program."
While online education for social workers was relatively rare in 2015, UH and Lucas recognized the technology was developing quickly and would open up enrollment into the program.
"We knew that we needed to increase the number of social workers in the greater Houston area," said Lucas. "The most applications we were receiving, outside of Harris County came from Fort Bend County. We didn't have an online program at the time."
The master's in social work program is a 3-year program. Lucas says there have been as many as 100 students attending the hybrid classes at UH at Sugar Land on Saturdays. Since the inception of the Sugar Land cohort, more than 225 have gone through the program.
"Our profession is unique because we really value lived experience," says Lucas. "We try to find ways to make the MSW more accessible to more people with diverse experiences and backgrounds."
The current hybrid MSW program is a blend of online learning and face-to-face classes, which meet just one to two times a month on the Sugar Land instructional site on Saturdays. Meeting just once or twice a month in person has allowed students outside of the Houston area to enroll in the program, including students in Dallas, College Station and Austin. Students are still required to complete a practicum in person, on-site at a community or non-profit agency.
In addition to offering students with family or work responsibilities the flexibility to pursue an advanced degree, hybrid and online technologies address a variety of learning styles, through a combination of videos, podcasts, and screen readers for those who do better with auditory learning.
"We can build courses that are geared toward unique learning needs," said Lucas. "We've been able to tap into all the different technologies that can help people learn, remember, and practice their skills for social work." Open-access resources and textbooks used in the program help to reduce the financial burden of a college education.
Graduates have gone on to work in a wide variety of fields; some are now in politics, while others have opened private clinical practices or started their own non-profit organizations.
"There's really no limit to what you can do," said Lucas. "As long as you are following the values of the profession, there are so many things you can do with a master's degree in social work."
Learn more about the UH Graduate College of Social Work hybrid program by visiting its FAQ page.
The GCSW is one of six UH colleges offering programs at UH at Sugar Land.
Read more