University of Houston at Sugar Land Breaks Ground on New Facility College of Technology Building to House New Programs, Labs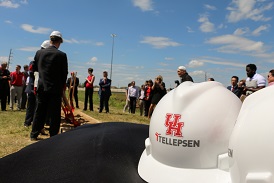 More than 100 people gathered at the University of Houston at Sugar Land for the groundbreaking ceremony of its newest facility. When completed, the new UH College of Technology building will house 10 research labs, the college's construction management and engineering technology programs.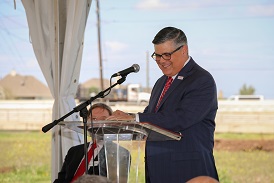 "The Sugar Land region is growing and UH is proud to be an important part of this growth," said Jay Neal, Associate Vice President, Academic Affairs and Chief Operating Officer. "Our students will be contributing to the thriving economy of this region because of the Tier One education they will receive."
The three-story, 100,000-sq.-ft-building is slated to open its doors in fall 2019.
The new College of Technology building will offer 10 labs, including a fabrications lab, materials lab, rapid prototype lab and a 3D-printing lab.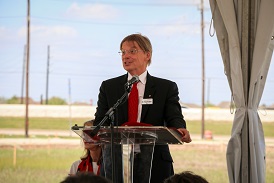 "We take our role here very seriously," said Tony Amber, dean of the College of Technology. "We have invited Joe Zimmerman, mayor of Sugar Land, to speak at our events. Jeff Wiley, president of the Fort Bend Economic Development Council is on our college advisory board. I am a member of the Fort Bend Technology Collaborative. We have strong working relationships with many companies in this area such as Fluor and Schlumberger. Our commitment is real and growing."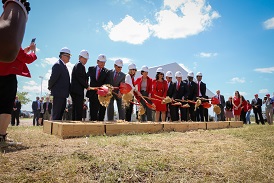 The College has had a large presence at UH Sugar Land since 2012 when its digital media program moved to UH Sugar Land. Its biotechnology program moved to UH Sugar Land in 2016. Currently, the largest population of students are pursuing studies in the college's supply chain logistics technology program--700 students. This semester, more than 2,100 students attend classes at UH Sugar Land, up 16 percent from spring 2017.
"In building in Fort Bend County, the University is answering a call from students, employers and municipalities. The fastest growing large county in the country needs a Tier One University to provide a Tier One workforce," Neal said. "Industry and students will benefit from the impact of this historic day."
The University of Houston received $54 million from the state in 2015 to construct a new facility in Sugar Land.
The new building is designed by Page Architects and will be constructed by Tellepsen Builders.
More information: www.uh.edu/sugarland/groundbreaking/