Funds Support Scholarships and a Mentoring Program
teachHOUSTON was awarded a 5-year, $1.45 million grant from the National Science Foundation that will further their mission of supporting pre-service science, technology, engineering and mathematics (STEM) teachers and promoting long-term teacher retention.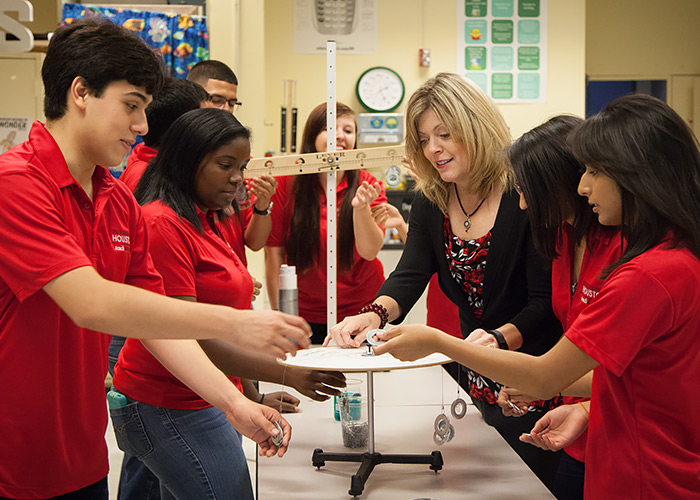 This new program, called the University of Houston: Learning through Informal and Formal Experience (UH-LIFE), will augment existing teachHOUSTON activities. Specifically, it will provide scholarships for pre-service STEM teachers and support the creation of the Noyce Professional Development/Mentoring Institute.
"This grant will help us provide our pre-service teachers and graduates with the support they need to be successful," said Paige Evans, a clinical associate professor with teachHOUSTON who is the principal investigator (PI) for this grant. Co-PIs on the grant are Donna Stokes (Physics), Steven Bark (Biology and Biochemistry) and Catherine Horn (College of Education). Cheryl Craig with Texas A&M University will serve as the program's external evaluator.
teachHOUSTON Addresses STEM Teacher Shortage
The teachHOUSTON program, which is a collaboration between the College of Natural Sciences and Mathematics and the College of Education, combats the shortage of qualified STEM teachers in secondary education. Students participate in field-based teaching experiences throughout the four years they are working on a bachelor's degree in science or math. Students enrolled in the teachHOUSTON track graduate with a degree in math or science, as well as a teaching certificate.
"This track, which acts as a student's capstone project, offers hands-on teaching experience, develops effective communication skills, and gives students the option of teaching after graduation," Evans said.
Wharton County Junior College Students Given Opportunity in Enroll in teachHOUSTON Track
A component of the UH-LIFE program will be to establish a collaboration with Wharton County Junior College, with Wharton students being given the opportunity to enroll in this track and participate in summer institute activities at UH.
"Students can take the freshman and sophomore courses while they are at Wharton, where they'll also be given opportunities to participate in internships at UH. Then, when they transfer to UH, they'll already have a sense of belonging," Evans said.
Noyce Professional Development/Mentoring Institute Supports Students and Graduates
The NSF grant will allow for the creation of the Noyce Professional Development/Mentoring Institute, which will pair current students with teachHOUSTON graduates.
"This institute will connect graduates with undergraduates, so that when students graduate and start teaching, they will already have a mentor in place to help them," Evans said.
As part of this institute, teachHOUSTON will host a weeklong summer institute, where undergraduates spend a week with graduates who are working as teachers. Professional development activities during this week will include the exchange of lesson plans and techniques for managing classrooms.
Current teachHOUSTON students will also be given the opportunity to work as camp counselors in a summer STEM camp for middle school students.
"Counselors will facilitate STEM activities, which is very valuable hands-on experience for pre-service teachers," Evans said.
Scholarships Offer Support to Students
"Our goal is for every student to have a scholarship during their semester as a student-teacher so that they have the financial support they need to focus on their teaching," Evans said.
This grant will also fund 72 scholarships for students with junior or senior standing. Eight scholarships will be offered during the first year, with 16 scholarships per year being offered during years 2-5 of the grant. Seventeen percent of these scholarship funds will be designated for Wharton College students who have transferred to UH, while the remaining scholarships will be available to all teachHOUSTON students.
"This grant will let us increase the level of support we can offer, both to pre-service teachers and to graduates of our program who are currently teaching," Evans said. "This support is critical for the long-term retention and success of teachers."
- Rachel Fairbank, College of Natural Sciences and Mathematics