Recognition Received at American Association for Cancer Research Annual Meeting
Senior biology majors, Hadil Elldakli and Adeola Adeleye, presented their research at the American Association for Cancer Research (AACR) annual meeting in Orlando. Their poster, entitled "Real-Time Monitoring of T-Cell Function to Identify Tumor Evasion Mechanisms," was selected for the AACR Undergraduate Student Caucus and Poster Competition that featured over 140 undergraduate students from across the world.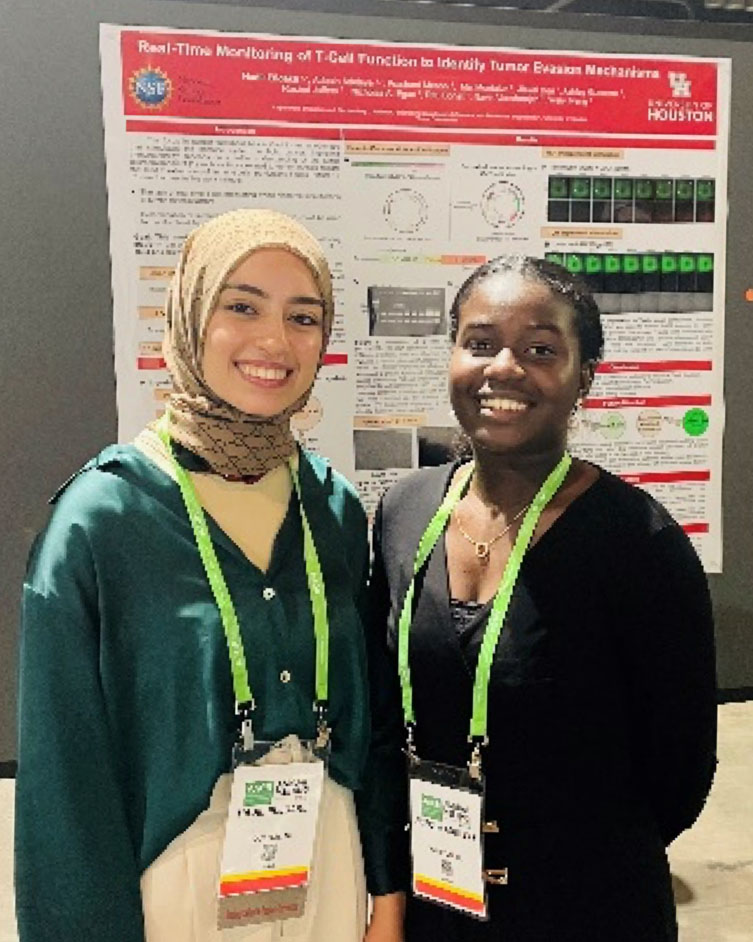 The AACR is one of the largest international societies for cancer researchers, and its annual meeting brings together thousands of professionals committed to preventing and curing all cancers through research, education, communication and collaboration.
Elldakli gave the poster presentation and garnered third place, receiving a $750 prize. She is the first University of Houston undergraduate to win this prestigious award.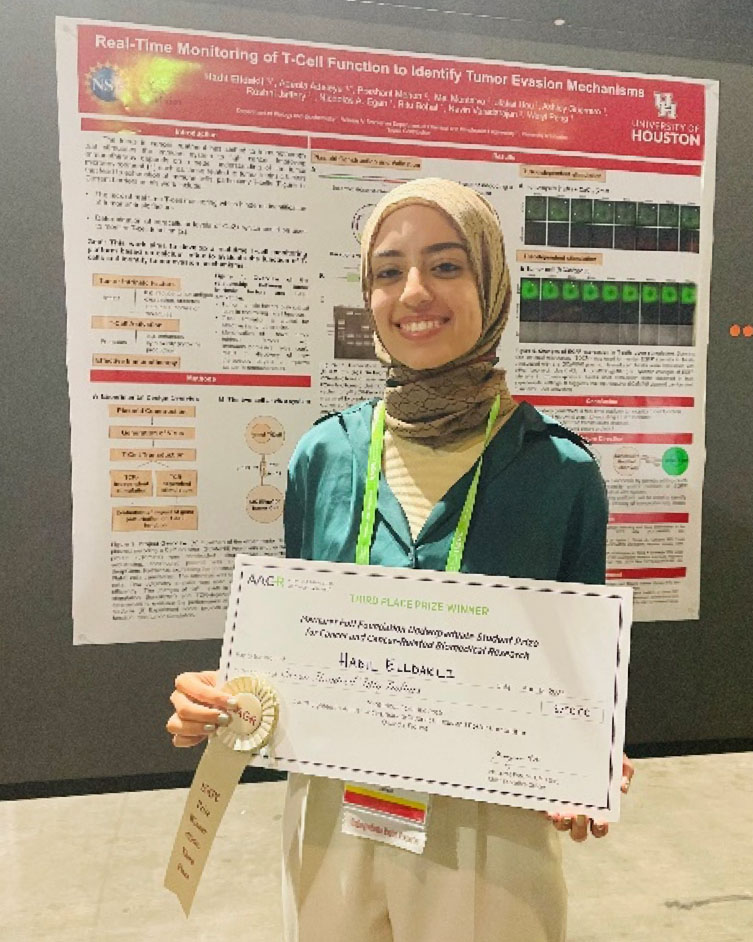 Elldakli and Adeleye's research involved monitoring T-cells in real time by creating a florescence platform to track calcium influx after T-cell activation. Having their work showcased was a significant achievement.
"It highlights the critical role that undergraduate students can play in advancing our understanding of cancer and developing new treatments to fight this disease," Elldakli said.
Elldakli and Adeleye conducted their research under the supervision of Weiyi Peng, assistant professor in the Department of Biology and Biochemistry, whose research is supported by the Cancer Prevention and Research Institute of Texas (WP, RP200520) and GEAR research funds from UH. Peng is on the faculty of UH's Center for Nuclear Receptors and Cell Signaling.
In addition, Elldakli and Adeleye received support from the National Science Foundation Improving Undergraduate STEM Education (IUSE) grant program (Award 16444991). Donna Stokes, professor of physics and NSM associate dean, is principal investigator on the grant.
The students participated in NSM's TC Energy Summer Scholars Academy and were recruited to the IUSE program. IUSE activities included:
The Freshmen Interest Group, a two-semester cohort-based learning and community-building course that includes support activities for academic growth, advisement, career development and mentoring,
A two-semester Majors Interest Group course which introduced students to research ethics and poster presentations, and
A research experience starting in their junior year through graduation.
Elldakli and Adeleye's success, at the conference and throughout their college careers, is a testament to the importance of providing academic support and undergraduate research opportunities to help students realize the potential they have for making meaningful contributions to scientific research. Both students graduated in May 2023.