UH Graduate School Awards Arvand Asghari in Biological Sciences Category
Biology and biochemistry doctoral degree alumnus Arvand Asghari won the inaugural University of Houston Graduate School Outstanding Dissertation Award.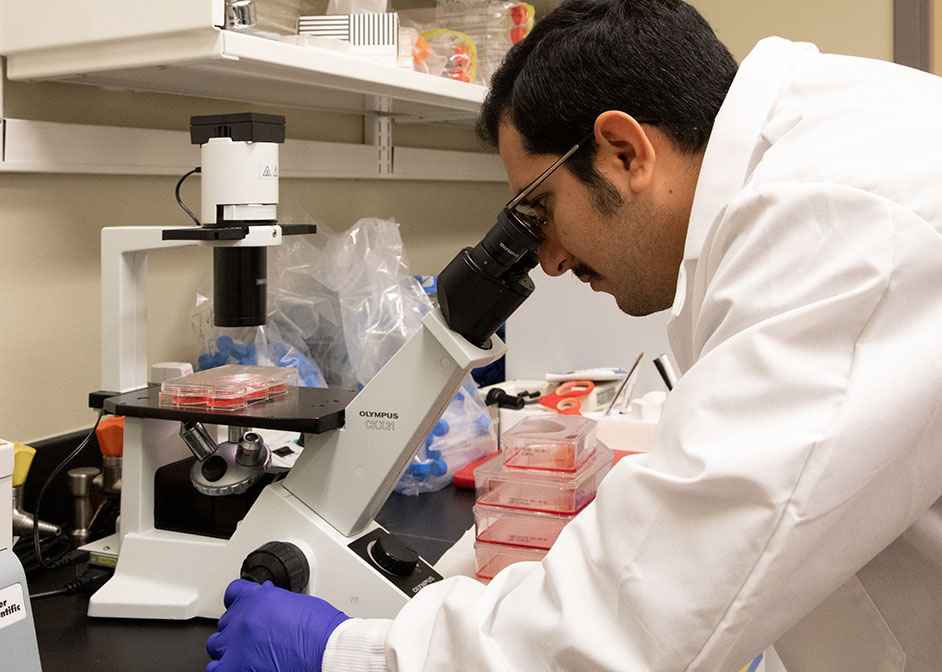 The Graduate School established the award in 2021 to recognize a graduate student who submitted an outstanding dissertation representing "original work that makes an unusually significant contribution to the discipline."
This year, Asghari was one of two graduate students awarded. The categories were biological sciences, and humanities and fine art. Each recipient received $1,000 and was nominated for the national Council of Graduate Schools/ProQuest Distinguished Dissertation Award.
Asghari's dissertation was titled "An Investigation into the Role of 27-Hydroxycholesterol and Estrogen Receptors in Adipose Tissue, Obesity, and Breast Cancer."
"I'm very happy that I have received the award," Asghari said. "It is a great pleasure to be recognized by my university, and it is great to have my dissertation selected as the best one in my related field, university-wide."
Asghari's dissertation at the College of Natural Sciences and Mathematics probed the roles both estrogen and estrogen receptors play in obesity and breast cancer.
He investigated the effects of the 27-Hydroxycholesterol molecule, derived from cholesterol, on white fat tissues and obesity. His research showed that 27HC increases body fat percentage regardless of diet, affects fat tissue gene expression and induces inflammation in the fat tissue. He also showed that 27HC alters the morphology, or size and shape, and function of brown fat tissue, which is the fat tissue subtype responsible for energy regulation in the body.
Regarding hormonal therapy resistance in breast cancer, he proved that 27HC increases the
growth rate of hormonal therapy-resistant breast cancer cells, using bioinformatics analysis.
"High Productivity"
Asghari joined the UH Center for Nuclear Receptors and Cell Signaling in 2017, doing research in biology and biochemistry assistant professor Michihisa Umetani's lab.
In Asghari's nominating materials, Umetani writes his advisee obtained necessary skills very quickly. That includes cell culture assays, protein assays, quantitative reverse transcription PCR, mouse handling, mouse ovariectomy surgery and histological analysis.
"With his strong background in bioinformatics, cell-based and animal studies, I believe Arvand will continue his high productivity, obtain new skills quickly, and also bring significant contributions to the research community," Umetani said.
Asghari's achievements include a Robert Hazelwood Graduate Fellowship for Cancer Research, the Endocrine Society's Early Career Forum Travel Award, winning UH NSM's 3-Minute Thesis Competition and receiving an NSM Alumni Association Scholarship.
He is also first-author of two papers, one in the journal Endocrinology, and one in the International Journal of Molecular Science. He is a co-author on three papers and a first author on two manuscripts under review.
Asghari graduated from UH in Spring 2021 and is now a postdoctoral researcher at the University of Iowa's Department of Neuroscience and Pharmacology. He researches the underlying neurological mechanisms of body weight regulation and obesity and explores the effects of the protein FGF21 on Alzheimer's disease.
- Rebeca Trejo, College of Natural Sciences and Mathematics