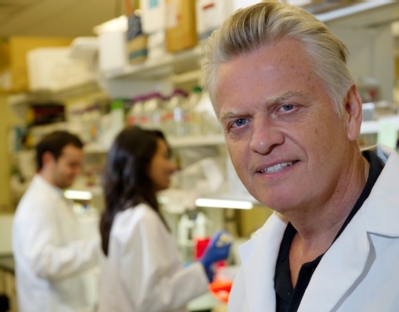 In Memoriam: Stefan Andersson, Ph.D.
Research Professor, Center for Nuclear Receptors and Cell Signaling
Department of Biology and Biochemistry
Stefan Andersson, a research professor and talented biochemist at the University of Houston's Center for Nuclear Receptors and Cell Signaling (CNRCS), died on June 9. He was 59.
During the course of his career, Andersson's research influenced several topics, including women's reproductive health, benign prostatic hyperplasia and prostate cancer.
Most recently, his work involved the study of a specific enzyme that inactivates estradiol in the cervix. The enzyme appears to be important for maintenance of normal cervical function during pregnancy and may be involved in the softening of the cervix that naturally occurs during labor. Cervical softening ahead of schedule is a serious medical condition often leading to premature labor and is a major cause of neonatal morbidity and mortality in the United States. Andersson was working to determine the cause of the condition and strategies for designing treatments.
He also studied the enzyme, 3-ketosteroid reductase, which may play an important role in the occurrence and progression of benign prostatic hyperplasia and prostate cancer.
Andersson joined the UH faculty in December 2009. He was part of the initial group of faculty hired for the CNRCS, established at UH in early 2009. He was a member of the laboratory research team of Jan- Åke Gustafsson, CNRCS director. The Center is involved in many aspects of nuclear receptor research, all focused on understanding the role of these receptors in health and disease.
A native of Sweden, Andersson began his career as a pharmacologist. In the late 1980s, he began doing research at The University of Texas Southwestern Medical Center in Dallas. There he identified and cloned two genes encoding enzymes important to androgen biosynthesis. One of these enzymes was discovered to convert testosterone to the more potent androgen dihydrotestosterone in the prostate.
The breakthrough was noticed by researchers at the pharmaceutical company Merck, who successfully recruited Andersson to continue his research. The results were applied to developing new treatments for the conditions benign prostatic hyperplasia, androgenic alopecia (male pattern baldness) and prostate cancer.
Andersson held an M.S. in pharmacy and a Ph.D. in pharmaceutical biochemistry, both from the University of Uppsala in Sweden. He was a member of the American Society for Biochemistry and Molecular Biology and the Endocrine Society.
###