Award Recognizes Significance and Impact of Research
Each semester, the Dan E. Wells Outstanding Dissertation Award is presented to a doctoral student who has performed outstanding research and submitted the best dissertation to the College. The Spring 2021 recipient was Ya Zhuo, a Ph.D. graduate in the Department of Chemistry.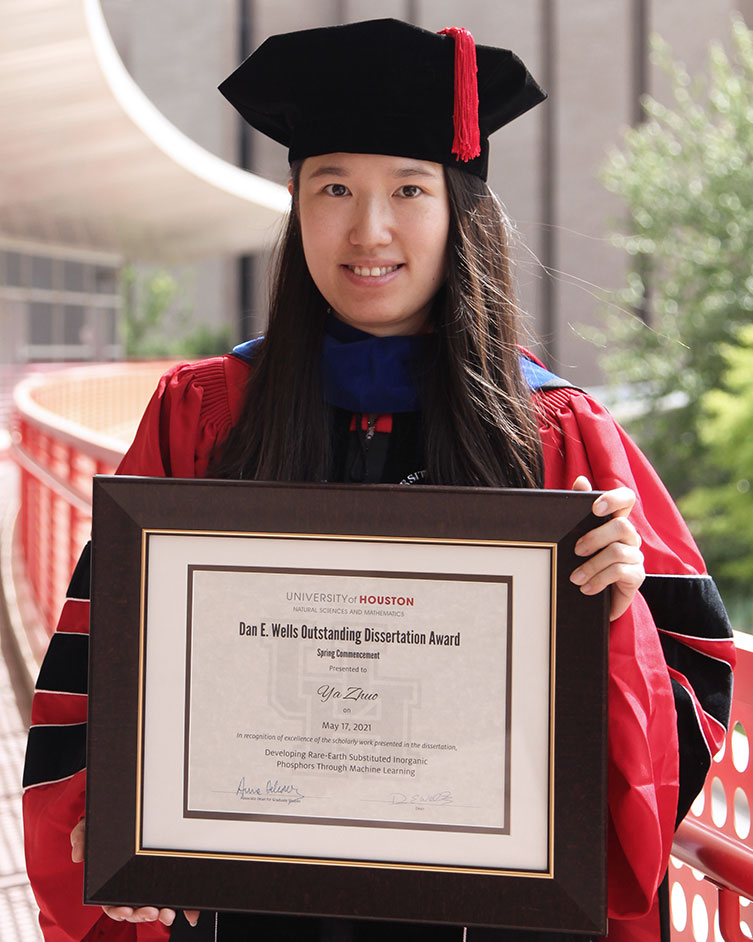 The award was announced at the University of Houston Commencement for the College of Natural Sciences and Mathematics on May 17. Zhuo received a certificate and an award of $1,000.
Her dissertation was "Developing Rare-Earth Substituted Inorganic Phosphors Through Machine Learning."
Zhuo's research combined state-of-the-art machine learning methods with advanced computational modeling and experimental material chemistry techniques, with the goal of facilitating the development of new luminescent material to be used in solid-state light, LED bulbs. Her advisor was Jakoah Brgoch.
Nominated dissertations are evaluated for:
Significance and impact of the research
Originality of the work
Quality of the scholarship
Quality of the presentation and organization of the dissertation
Zhuo will be starting a postdoctoral position at University of California, Santa Barbara.
- Kathy Major, College of Natural Sciences and Mathematics