ACS Student Chapter Recognized as Outstanding

Only 55 of More Than 400 Chapters Received the Designation

The American Chemical Society (ACS) Student Chapter at the University of Houston received an Outstanding Chapter Award for its activities conducted during the 2014-2015 academic year. Only 55 of the more than 400 chapters submitting reports received the "Outstanding" designation.
The group's activities include community service, proctoring at the Chemistry Olympiad for the Greater Houston area, and chemistry demonstrations at schools, community events and the Mars Rover Celebration. The chapter holds biweekly meetings with speakers covering topics such as careers, research and medical school.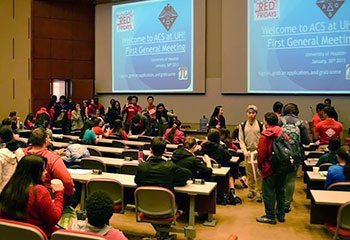 "The ACS Student Chapter runs the Tutoring Room at UH which the national ACS organization has acknowledged is the biggest of its kind with 5,000 student visits a year," said Simon Bott, the chapter's faculty advisor and instructional professor of chemistry.
In 2016, the group will have an integral role in the organization of the symposia, poster sessions and social events for the ACS Regional Meeting in Galveston, Texas.
In the award letter from ACS President Diane Grob Schmidt, she noted "Professor Simon Bott, faculty advisor of the chapter, deserves special commendation. Few faculty members are willing to make the great commitment of time and energy that a successful chapter requires."
The list of award-winning chapters will be published in Chemical & Engineering News and in the November /December issue of inChemistry, the student member magazine. Chapters will also be honored at the ACS National Meeting in San Diego in March 2016.
- Kathy Major, College of Natural Sciences and Mathematics