Graduate Student Arati Kohlatkar Lead Author of Published Review

Review Addresses Factors that Can Be Used to Engineer Magnetic Properties at the Nanoscale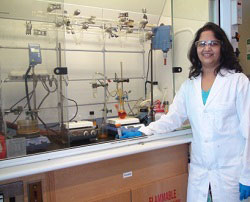 Chemistry Graduate Student Arati KolhatkarA research team at the University of Houston has published its insights into the factors that can be used to engineer magnetic properties at the nanoscale.
Magnetic nanoparticles (MNPs) exhibit unique properties that have tremendous potential for use in biomedical applications such as highly sensitive magnetic resonance imaging (MRI) contrast agents, as sensors, and drug carriers for targeted drug delivery.
The review titled "Tuning the Magnetic Properties of Nanoparticles," was published recently in the International Journal of Molecular Sciences and acknowledged by NewsRx.com and HispanicBusiness.com. Lead author Arati Kolhatkar has been pursuing her Ph.D. degree in Chemistry/Chemical Biology under the guidance of T. Randall Lee, Cullen Distinguished University Chair and Associate Dean for Research for the College of Natural Sciences and Mathematics; and Richard Willson, Huffington-Woestemeyer Professor of Chemical and Biomolecular Engineering.
"Arati is a truly exceptional young scientist. She asks the right questions and finds the correct answers to them. Her defining work on cubic magnetic nanocubes will be highly cited for years to come," Lee said.
The review article was a collaborative effort that included the insights of Dmitri Litvinov, Interim Vice Provost and Dean of the Graduate School.
Kolhatkar notes that the motivation for assembling the report was to provide a matrix of parameters to tune the properties of magnetic nanoparticles for a particular end-use. The proposed usefulness of cubic nanoparticles reflects ongoing research by Kolhatkar on how flat-sided magnetic nanoparticles designed for biosensors allow for improved surface contact over a spherically shaped particle.
Additionally, Kolhatkar has been further exploring the effect of shape on magnetic properties and hopes to better understand how to optimize the unique magnetic properties of nanoscale particles and effectively tailor them to specific scientific applications.