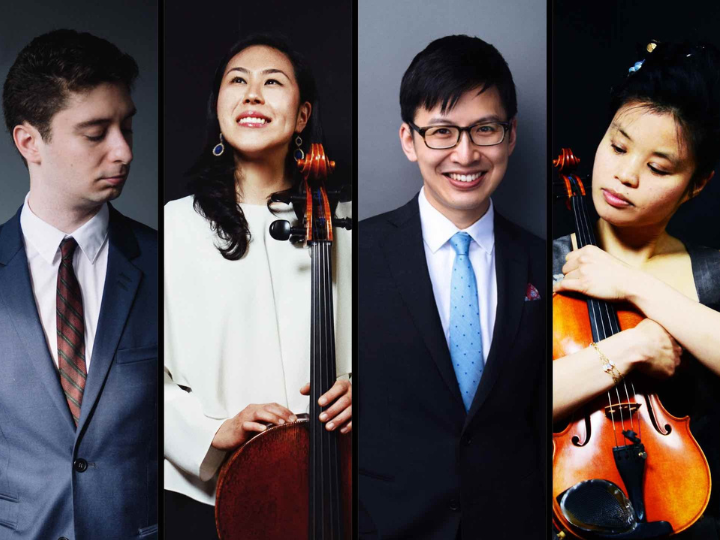 Four familiar faces will join the University of Houston scene this fall as the internationally acclaimed Formosa Quartet becomes the Quartet-in-Residence at the Moores School of Music.
The appointment will include regular visits by the quartet to the school each year. The appointment supports the school's string and chamber music programs, with individual ensemble coaching, master classes and public performances, including appearances at the Moores Music in the City Series at Christ Church Cathedral, where the residency will be announced during a concert on Feb. 18 by Kathrine G. McGovern College of the Arts Dean Andrew Davis.
"This appointment takes the already nationally known faculty and programs in strings and chamber music in the Moores School of Music and elevates them to the next level," said Davis. "Students of the Moores School will be the real beneficiaries of having artists of this caliber in regular residence, and the Formosa Quartet now adds one more reason for students to attend the Moores School of Music."
"In the past several years, over the course of multiple visits, the quartet has formed lasting bonds with the faculty and students of the Moores School of Music," said Kirsten Yon, associate professor of violin and chair of the Moores School of Music String Division. "We are looking forward to the future of our partnership and we're delighted to welcome these virtuosic artists with programming and events centered around community, collaboration and joyful music-making."
Equally impressive as individual concert artists, the members of the Formosa Quartet are violinists Jasmine Lin and Wayne Lee, violist Matthew Cohen and cellist Deborah Pae. The quartet formed in 2002 when the four Taiwanese-descended founders came together for a concert tour of Taiwan. Since its founding, the cultural identity of the quartet has expanded to include broader American, pan-Asian and Eastern European influences, and they are known for concerts that include curated sets of folk, pop, jazz and poetry arrangements, and for their recent sociocultural exploration of American music and culture in their "American Mirror Project."
Their appointment will allow students to study with a culturally rich ensemble and will add the Moores School's name to the quartet's list of residencies and teaching engagements at major universities and conservatories across North America and Asia.
During one of the quartet's recent visits to the Moores School, cello performance major Oshagan Merjanian said, "Spending time with the Formosa Quartet was an incredibly inspiring and literally uplifting experience. Their world-class musicianship is astounding, and their humility to interact with students at our level is cherished. There was no air of loftiness, and their disposition was respectful, nurturing, benevolent and expectant of progress. I certainly feel my outlook has expanded and playing has improved because of their residency."
Bernini Chan, a doctoral student in violin performance, added, "The Formosa Quartet has once again leveled up my ability to share my music with sounds and words! The interaction they had with audiences during their concert was eye-opening and totally inspired me with fresh ideas to plan my own chamber group's community outreach performance. I am already looking forward to them coming back next semester!"
"On stage and in the classroom, the Formosa Quartet brings imagination to life," added Yon. "Their dynamic, energetic presence is yet another reason for students to choose the University of Houston."
You can hear the quartet in concert at the Blaffer Art Museum at the University of Houston on Feb. 16 and at Christ Church Cathedral in downtown Houston on Feb. 18. Both concerts are free of charge.
CONCERT DETAILS
Thursday, Feb. 16 at 7:30 p.m.
University of Houston, Blaffer Art Museum, 4188 Elgin St., Houston, TX 77204 (Map).
Saturday, Feb. 18 at 7:30 p.m.
Christ Church Cathedral
- Stephanie Williams, Kathrine G. McGovern College of the Arts
---