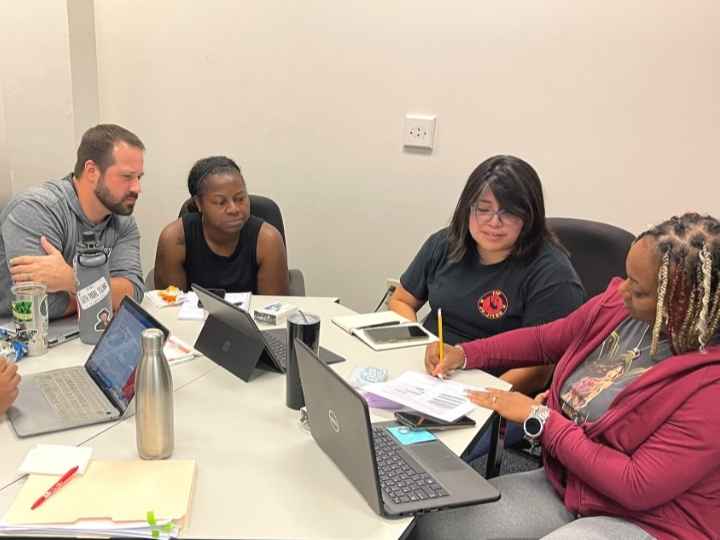 To bring more diversity to the ranks of professional scientists, a team of University of Houston educators is rethinking science classes, starting with middle school curricula.
A new UH program called ALL RISE invites experienced middle school science teachers to explore instructional theories and methods that honor and integrate the backgrounds and languages of everyone in the classroom, particularly emergent bilingual students.
"The term emergent bilingual is getting more commonly used now. It refers to students who still are developing their home languages while learning English as an additional language. Helpful intervention with language programs is common in elementary schools, but older students may not find access to such assistance in middle schools, which is the age when more abstract science concepts start to be introduced," explained Sissy Wong, UH associate professor of science education and the principal investigator of the program.
Joining Wong as co-investigators in ALL RISE (or Advancing Language Literacy with Relevant Investigations in Science Education) are three of her colleagues from the UH College of Education – Associate Professor of Bilingual/ESL Education Jie Zhang, Distinguished Professor of Cross-Cultural Science Education Alberto Rodriguez and Associate Professor of Literacy Education Laveria Hutchison – and from the UH College of Natural Sciences and Mathematics, Professor of Physics Donna Stokes.
Nineteen experienced science teachers from the Aldine, Alief and Houston school districts form the cohort of ALL RISE, which is a collaboration of the UH College of Education, UH College of Natural Sciences and Mathematics, UH STEM Center, Achieving Student Success through Excellence in Teaching (ASSET) and the New Teacher Center (NTC). ALL RISES's five-year program is funded by a $2.2 million National Science Foundation Robert Noyce Teaching Fellowship Program grant.
In the multicultural Houston area, local school districts report 40% of their students, on average, are native speakers of a language other than English. Amid so many backgrounds, how does a teacher create a science lesson that inspires the imagination of everyone?
"In learning about weather, for example, a teacher might invite students to share family stories about Hurricane Harvey or another big storm. The teacher can ask for the word 'hurricane' in every language represented in the room, which expands all students' awareness of different languages and geographic landscapes. This acknowledgement elevates global understanding of science principles. It also honors every student's cultural background and the experiences the family has shared," Wong explained.
But when teachers and students face the limits of traditional classroom teaching, it is easy to see where science-smart students can derail along the path to STEM futures. Compared to their monolingual English-speaking peers, today's emergent bilingual students average lower scores on standardized tests in ways that hint science lessons are not hitting home.
"The problem can magnify along the way. If students' interest in science drops in sixth, seventh and eighth grade science classes, those students are unlikely to eagerly join advanced science classes in high school. That experience of disengagement becomes the point where the pipeline to STEM careers narrows and the barriers to nurturing a science-literate population grow," Zhang said.
ALL RISE master teaching fellows will be prepared not only to bring these methods to their curriculum but also to share the concepts with other teachers and pre-service teachers in their schools.
"The beginning 14 months of the ALL RISE curriculum redesigned a UH master's in education degree program to integrate language, literacy and culture within a classroom's science lessons. In years two through five, monthly professional development sessions and other activities will re-enforce teaching theories and strategies to continue fostering the teaching fellows' knowledge and practices that make science meaningful and relevant to diverse students in their classrooms," Stokes said.
During weeklong summer sessions, ALL RISE participants can deepen their own interest in science through opportunities to assist UH researchers – giving them more experiences and enthusiasm to share with their young students back in the classroom.
---