For Eduardo Cerna, participating in the University of Houston's Scholar Enrichment Program (SEP) was a transformative experience. As a UH student in 2011, he received tutoring and participated in workshops and collaborative learning groups through SEP. Eventually, he became a peer facilitator himself, leading sessions and mentoring younger students in the fields of science, technology, engineering and mathematics.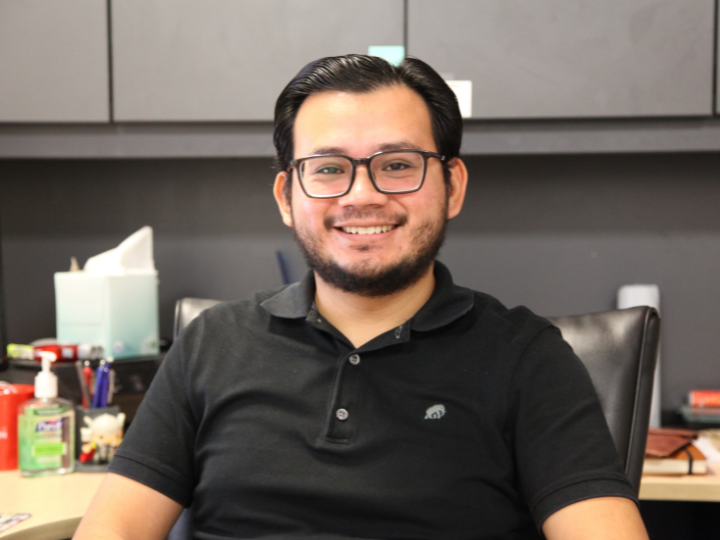 He enjoyed the experience so much that upon graduating with a degree in mathematics, he considered becoming a teacher.
"But I had not done anything to get my teacher certification," Cerna said. "I didn't really know if I wanted to be an educator in the K-12 system."
Fast forward to present day: He sits in his office with the door open as students frequently walk in to ask for guidance; he still mentors the younger generation, but now as the program director of SEP. A successful one at that.
This year, the student success program has won two awards: INSIGHT into Diversity Magazine's Inspiring Programs in STEM Award and most recently, the Texas Higher Education Coordinating Board's Star Award.
The award recognizes higher education programs that advance the board's strategic plan for higher education in the state, titled "Building a Talent Strong Texas." SEP was recognized for its contributions to providing postsecondary credentials of value, specifically through its efforts to provide exemplary support service to students.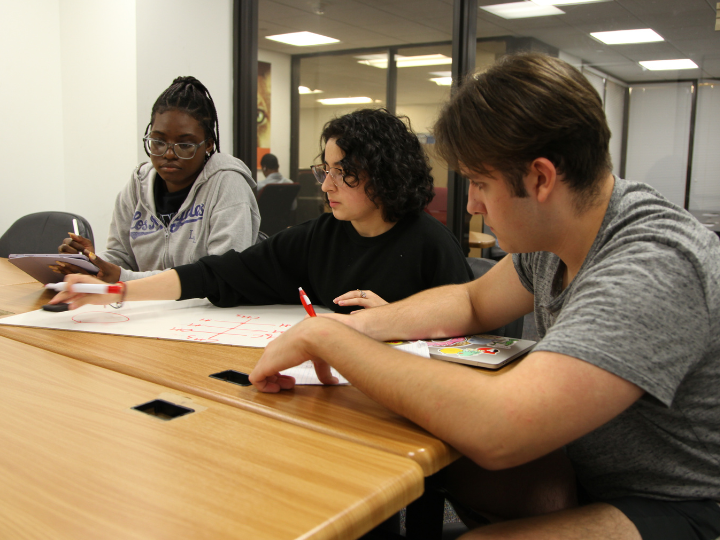 "I'm elated the program received this recognition," he said. "My mentor, Beverly Brown, who was the former director of this program when I was a student, and the people who came before her laid the groundwork for the success of SEP. As the director of the program, I'm grateful to know I am part of continuing this rich tradition of serving students."
Collaborative Learning Forms a Strong Community
If you ask current students what makes SEP successful, it is the peer-to-peer style of learning. Undergraduate students lead the workshops and tutoring sessions for groups of fellow undergrads. In turn, these student leaders are supported financially through SEP.
Workshops are one credit hour supplemental instruction classes to support students in lower-level STEM courses such as Calculus I, Chemistry I and Physics. Each workshop is led by two peer facilitators and are capped at a maximum enrollment of 35 seats. Tutoring is free and is run by students at SEP's tutoring center. It also provides services for lower-level STEM courses. Both workshops and tutoring are open to all UH students.
"It is a wonderful program," said Reyna Isabel Diaz, a chemistry major. "You have a great support system. I've received the help I needed with my classes, and I'm able to help other students in the classes they're taking. It's also helped me financially."
Diaz became involved with the program through the TC Energy Summer Scholars Academy in summer 2019. The academy provides incoming freshmen a chance to prepare for the rigors of college with an intensive nine weeks of academic work. Students take Calculus I, receive a preview course of Fundamentals of Chemistry and take college success classes.
A majority of these students then continue to receive SEP academic support and go on to become tutors and peer facilitators, which keeps them engaged.
For Diaz, aside from the academic help that enabled her to pass physics and calculus, she said being part of a community is the greatest difference SEP has made in her college career.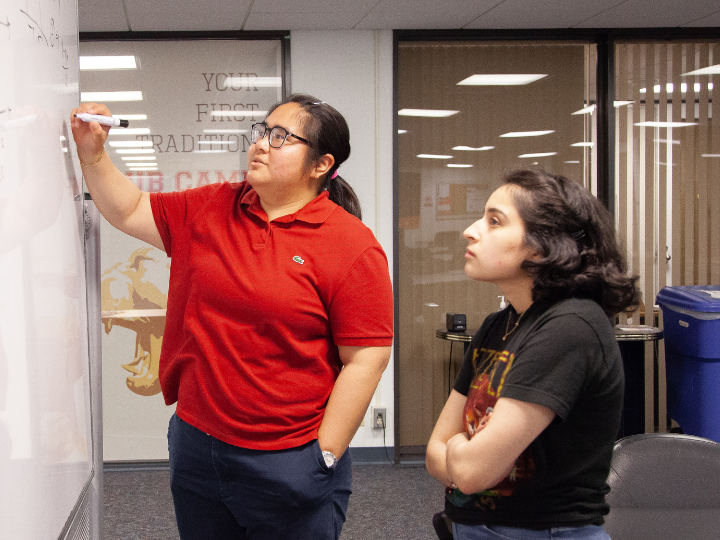 "I've made an immense number of friends here," she said. "I've had a group of friends who have been going through the same classes. I was able to have that study group throughout college. I'm not very social, so if I hadn't joined this program, I would have had a hard time making friends. I'm glad I was able to make the friends that I have."
The Numbers Talk
Data shows SEP makes a difference to students' academics. For example, in spring 2022, 81% of students who enrolled in workshops earned an A, B or C in Data Structures, a popular class for students interested in computer science careers, as opposed to only 46% of students who did not attend workshops.
Of students who were Federal Pell Grant eligible, SEP students, compared to non-SEP students, had higher GPAs and course grades, as shown by a UH study published this year.
"SEP provides a comprehensive model for building and supporting communities of learners from diverse backgrounds such that a robust pipeline of STEM professionals is prepared to enter the workforce to support the national and state economy," said Donna Pattison, one of the study's authors and assistant dean of student success at the College of Natural Sciences and Mathematics. "This program can serve as a model for other institutions who aim to support underrepresented students in STEM as it not only provides academic, personal and professional support, but also leadership opportunities."
She and Donna Stokes, associate dean of undergraduate affairs and student success at the college, oversee the program.
"I am proud of SEP and the community it creates for our students," Stokes said. "The College of Natural Sciences and Mathematics looks forward to many more years of promoting student success, especially for underrepresented groups."
Celebrating 30+ Years
For the future of SEP, Cerna envisions expanding the program's reach by offering more workshops and tutoring in computer science classes given its popularity among students coupled with the needs of the workforce.
"We already have offerings in data structures but scaling up to support more students would be great," he said.
While Cerna this year celebrated 11 years of involvement with SEP dating back to his days as a student, the program has been active since 1992. Cerna hopes to bring alumni back for a banquet, possibly for the college's 50th anniversary in 2027.
Among those he thanks is Brown, his mentor who offered him a job when he was a recent graduate still figuring out his career aspirations.
"There are so many, like Ms. Beverly Brown, who love this program as much as I do. To know that we're not just SEP, a program within the University, but a nationally and state recognized program, is a great feeling to have."
---