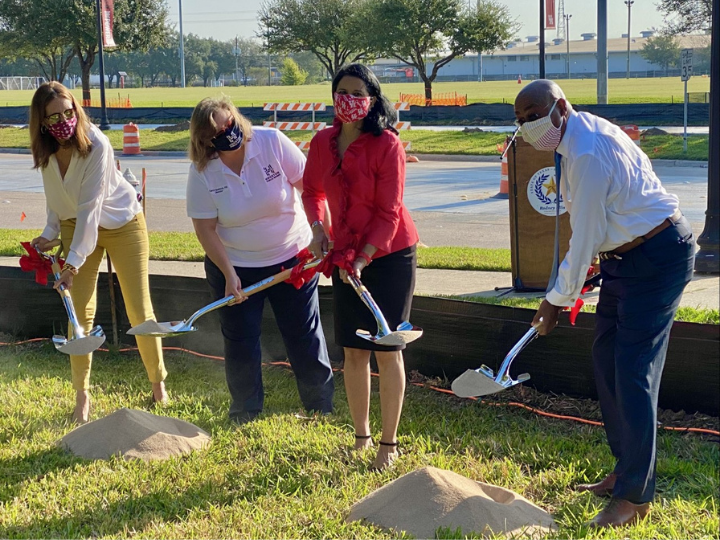 To improve mobility and safety on a major thoroughfare through the University of Houston campus, UH President Renu Khator joined Harris County Commissioner Rodney Ellis, Houston City Council member Carolyn Evans-Shabazz and others to break ground on the second phase of the Cullen Boulevard construction project, which will make the street more pedestrian and bike friendly.
The Cullen improvements are part of a $30 million pledge by Ellis to reconstruct six streets in the UH-Texas Southern University corridor to improve accessibility for all users, including pedestrians, bicyclists, motorists and transit riders. In addition, drainage improvements will help reduce street flooding during heavy rain. Fresh landscaping and new lighting will beautify and enhance safety in the area.
The latest work includes substantial improvements along Cullen Boulevard south of Interstate 45 to Wheeler Avenue. The first phase on Cullen— between North MacGregor and Wheeler Avenue— was completed this summer.
"The ongoing transformation along Cullen Boulevard is remarkable and only made possible through the vision and leadership of Commissioner Ellis and Mayor Turner. Not only do these extensive improvements beautify the UH campus, they also make it safer and more accessible to everyone. As a gateway into the University, this enhancement is something all Coogs can be proud of," said Khator.
The entire project will cost about $18.8 million, with Precinct One contributing $15.1 million, the City of Houston adding $3.74 million and UH paying for lighting and street furniture improvements following completion.
"In a few important ways, this project will significantly improve the quality of life for the students, faculty and staff at University of Houston as well as those who live in the surrounding neighborhood of Third Ward," said Ellis. "Our investment will transform this Cullen corridor from Brays Bayou to I-45 into a beautiful, more walkable streetscape."
The second phase, estimated to cost $12.7 million, includes reconstruction of approximately 4,100 linear feet of concrete curb and gutter roadway with 12-foot shared use paths on both sides. The proposed roadway consists of 34-foot wide reinforced concrete, a new drainage system, 12-inch waterline, five traffic signals, street lighting, irrigation system and trees. 
"We are here to announce Phase II and the next step to improve streets, sidewalks, drainage, mobility and to beautify Houston's Third Ward in District D, what I call the 'District of Destination' near Texas Southern University and the University of Houston," Evans-Shabazz said. "This reconstruction will not only improve the Cullen thoroughfare for drivers, but will improve access for pedestrians and cyclists."
The other street slated for improvements near UH is Wheeler Avenue between Cullen Boulevard and Scott Street. The streets near TSU are Cleburne (Ennis to Scott), Blodgett (Scott to Ennis), Tierwester (Blodgett to Rosewood) and Rosewood (Tierwester to Scott).
"For many of our most vulnerable residents, including students, owning a car can be prohibitively expensive," said Ellis. "Your zip code shouldn't determine your access to safe roads, sidewalks and streets that don't flood in heavy rain. Road and drainage improvements are long overdue in Third Ward, which has been historically underserved when it comes to infrastructure."
---