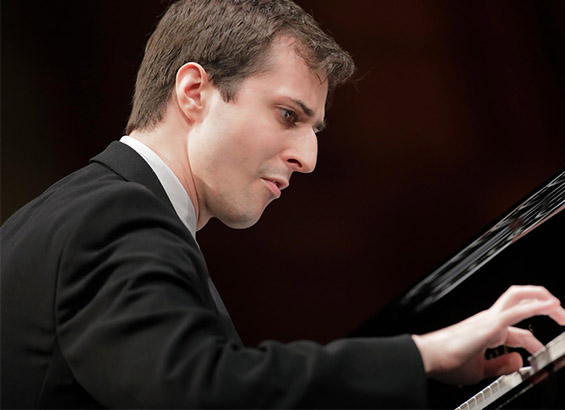 In a competition that is sometimes referred to as the "Olympics of Piano", University of Houston Moores School of Music (MSM) alumnus Kenny Broberg won silver Saturday (June 10) in Fort Worth. The 23-year-old is the first MSM graduate to make it to the finals in the Van Cliburn International Piano Competition, whose awards are among the most prestigious in the world.
Broberg practiced four to six hours a day leading up to the Cliburn, which attracts the best of the best young talent worldwide in piano performance.  Much like an Olympic athlete, the training is rigorous, requiring physical endurance and mental acuity to compete. The contestants range in age from 18 to 30. This year, 30 finalists were chose from the 140 who auditioned. More than 300 pianists applied.
The Cliburn, which takes place every four years in Fort Worth, has the power to launch the careers of finalists and medalists.  Nancy Weems, chair of the MSM Piano program and former Van Cliburn competitor, mentored Broberg during his time at the Moores School of Music. She was on hand for the competition.
"Kenneth is a consummate musician with a wonderfully unique and personal musical voice," said Weems. "He deserves to be on the world stage and I have nothing but the highest possible hopes for his brilliant future career. It was one of the greatest joys of my own life to be his teacher and mentor."
Now a graduate student at Park University in Kansas, Broberg is studying under acclaimed pianist Stanislav Ioudenitch, who won the gold medal at the 11th Van Cliburn International Piano Competition.
As a silver medalist, Broberg wins a $25,000 cash prize and three years of individualized management and U.S. concert tours, including a promotional package—press kits, videos and website. He also earned a live recording partnership with Universal Music Group.
Click here for a link to photos of the competition.
---