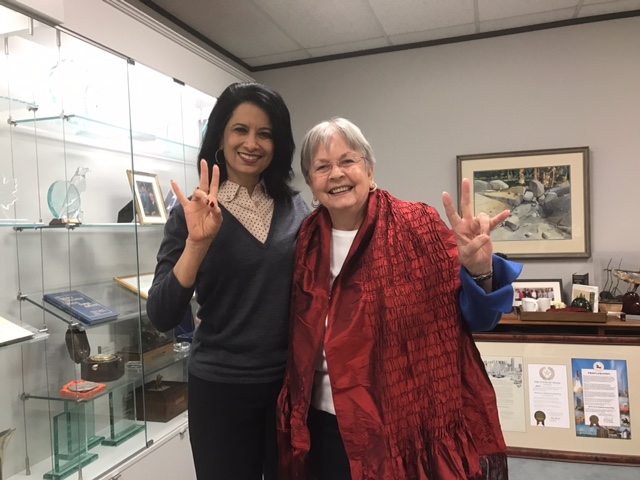 The University of Houston College of the Arts is the recipient of a $20 million gift from the John P. McGovern Foundation. In recognition of this transformational gift, UH will rename the college the Kathrine G. McGovern College of the Arts. 
The gift creates a permanent endowment that will benefit arts students and faculty, as well as community outreach. The Kathrine G. McGovern College of the Arts will be the first college at the university named after a former student and also the first named after a woman. Mrs. McGovern, a former student who studied art and design at UH, has provided the following reflections on her time at the University and the donation to the College of the Arts.
What can you share about your passion for the arts and your time at the University of Houston?
It is my pleasure for our Foundation to pledge $20 million for the McGovern College of the Arts. My background is in art, and I took my first formal art training at the UH in the late 1950s and 1960s. I have good memories of my first teacher, Don Snell, who was so encouraging and wanted me to be creative and not afraid to experiment. He was sort of a hippie, wore sandals and was a really warm person. It was a good experience for me. I have had other splendid teachers in the Houston area: Dorothy Hood, Arthur Turner, Lowell Collins and others. I'm not an active artist now, but do collect art and tour the galleries regularly, and it is an important part of my life.
What role do The Arts in general play in our society – and what's your opinion of The Arts Scene here in Houston? 
I believe The Arts play a very vital role in our society as artists convey their interpretations of beauty, performance and concept to the viewer, often opening minds to new appreciations of the world around us.  I think the Houston Arts Scene has evolved with the world Art Scene generally and ranks at a very high level. Houston has world-class art and artists with some uniqueness that come from our geographic location and our history.  I think the future is very bright for the Houston Art Scene.
What would you like the McGovern College of the Arts to accomplish or be especially well-known for?
I would like the McGovern College of the Arts to be known for its commitment to excellence in the teaching, nurturing and support of all of its students, with the hope that those same students will use their talents to give back to the College and the City of Houston.    
About the College of the Arts
The College of the Arts was approved by the UH System Board of Regents and established in fall 2016. The departments and schools within the college were previously units in the College of Liberal Arts and Social Sciences.
Degree-Granting
School of Art
School of Theatre and Dance
Moores School of Music
Master of Arts in Arts Leadership (interdepartmental)
Non-Degree-Granting
Cynthia Woods Mitchell Center for the Arts
Blaffer Art Museum
Center for Art and Social Engagement
Facts and Figures
150+: faculty members
1,500+: students
24,135: Number of tickets issued (2015-16)
1,942: Total number of seats within the college performance venues
6: majors performing and visual arts venues
---