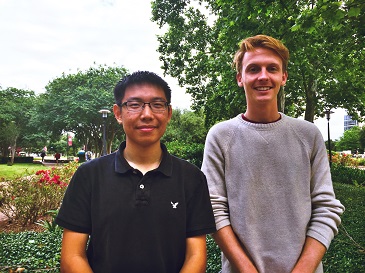 Two University of Houston students have earned summer internships at the Smithsonian Institution in Washington D.C.
Ben Lueders, who will be a fifth-year architecture student in the fall, and Jeffrey Hong, who will begin his junior year as a construction management student, will work for the Smithsonian's Office of Facilities, Engineering and Operations.
An additional eight UH students leave in mid-May for a three-week internship at the Smithsonian. The eight, along with Lueders and Hong, are in the Honors College, but the Smithsonian internship program is open to any UH student.
The internships are part of an agreement signed last year by UH and the Smithsonian, the only such agreement between the Smithsonian and a university west of the Mississippi River. Five UH students – including Leuders and Hong – traveled to Washington D.C. for the three-week program last summer.
The experience last summer left Hong and Lueders wanting more. And being in Washington D.C. for the summer will allow them to dive deeper into internships related to their majors, as well as more time to experience the city.
"I loved working at the Smithsonian and being in Washington D.C. That's why I applied again," Hong said.
Alison Leland, associate director of the Bonner Leaders Program in the Honors College, said that working in the nation's capital is an important part of the internships.
"The first part of the experience is Washington D.C.," said Leland, who also teaches political science. "I want students to envision themselves living and working at a place like Smithsonian, and how that may inform their thinking about the future."
Lueders' project for the summer involves creating a database of best practices in maintaining historic buildings, as well as practical information about materials used in the Smithsonian's new construction. That, he said, will help him learn the pragmatic side of architecture, the flip side of the artistic design component.
Hong will also work in the facilities department, where last year he took part in tasks ranging from geospatial mapping to renovations for the dinosaur exhibit at the National Museum of Natural History.
This year, both are looking forward to the behind-the-scenes opportunities the Smithsonian offers interns, as well as taking in other city sights.
Even visiting the Smithsonian museums with a tourist's eye will be fun, Hong said.
"I spent a lot of time in museums last summer, but I was looking at floor plans." 
---