The science and engineering behind Hollywood movie making, crime scene investigations and other projects will be explored by students in grades five through eight at two University of Houston camps this summer.
With a shared mission of encouraging young people to pursue studies in science, technology, engineering and mathematics (STEM), the ExxonMobil Bernard Harris Summer Science Camp and the Cougar STEM Camp are open for registration and have deadlines coming up in April and May. Affiliated with UH's teachHOUSTON math and science teacher preparation program, both camps provide opportunities for hands-on experimentation, networking with STEM professionals, field trips and exposure to college life.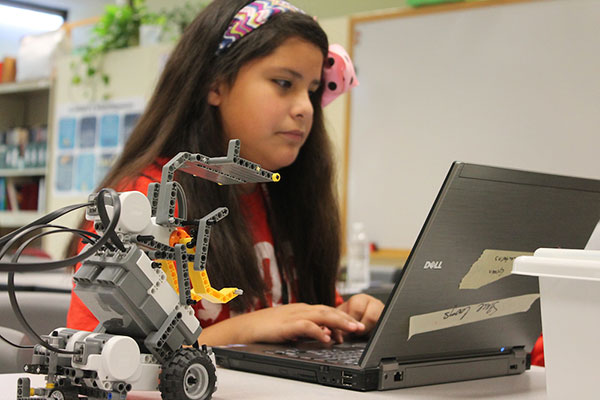 Returning for its 16th year at UH, the ExxonMobil Bernard Harris Summer Science Camp explores how science impacts daily life and seeks budding scientists and engineers interested in sharpening their skills alongside STEM professionals. Former astronaut Dr. Bernard A. Harris Jr., the first African-American to walk in space and camp founder, created the all-expenses-paid, two-week camp to offer a dynamic summertime learning experience to underserved underrepresented youth with limited opportunities. ExxonMobil donated $50,000, making it possible for the students to attend the camp at no cost.
Throughout the camp, students live on campus and participate in interactive, inquiry-based classes taught by university faculty, secondary teachers and other professionals. Campers will go on field excursions and be given opportunities to interact with STEM professionals. Counseling sessions, career information, guest speakers, tours and recreational time also are integral parts of the camp experience.
This year's flagship project – Voyaging into the Cosmic Ocean – will address current reliance upon fossil fuels and the need for alternative fuel and energy sources. Students will be given a core problem to solve, using an approach that integrates the STEM disciplines. They will use solar, wind, thermal, nuclear or other forms of energy in constructing an energy-efficient habitat suitable for a given environment.
Held June 12-24, the camp is open to students in Harris, Fort Bend, Brazoria and Galveston counties, entering sixth, seventh or eighth grades in fall 2016. To be eligible, applicants must have an interest in science and mathematics, at least a B average in science and math courses and a passing score on the most recent required state standardized science and math tests, as well as submit two teacher recommendations. The application deadline is April 8. Application information can be found at
http://theharrisfoundation.org/sitecontent/663/university-of-houston/category/466/embhssc-universities.aspx
. For questions not answered on the website, email
lmcalister@uh.edu
or call 713-743-2491.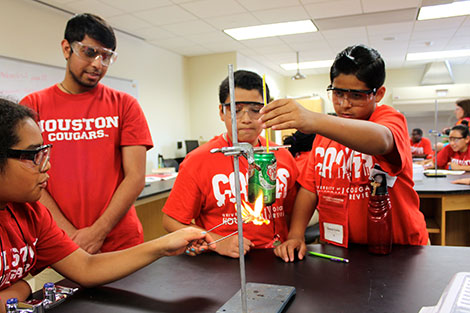 In its third year, the Cougar STEM Camp is a four-week day camp where children entering fifth, sixth, seventh or eighth grades in fall 2016 can get out from behind their desks and into the action. The camp offers four themes – Cougar Inventors, Crime Scene Investigators, Sumobot Robotics and Movie Magic – that integrate science, technology, engineering and math. In all four, students will see firsthand how STEM can come alive through real-world applications. Campers can register for one, two, three or four weeks of camp.
In the Cougar Inventors group, campers will be immersed in the engineering design process as they complete specific tasks using everyday objects. For instance, to help people who have difficulty writing due to arthritis or other medical issues, they will design an apparatus for more easily holding a pencil, using rubber bands, paperclips, tape and scissors. Other projects include using software to create 3-D models of houses to build scaled replicas for storm-endurance testing and collecting pollution data with digital probes to develop solutions for a greener environment.
The Sumobot Robotics offering, which debuted last year, will give students an opportunity to learn about design and programming as they work in teams to build a robot to compete in a sumobot challenge. Sumo Robot contests feature two robots attempting to push each other out of a ring, much like in the sport of sumo wrestling.
Two more returning favorites this year involve forensics and filmmaking. Putting on their detective hats in the Crime Scene Investigators session, campers will dive into forensic science by collecting, analyzing and examining evidence, such as fingerprints, hairs, fibers, DNA and blood splatter to solve crimes. In the Movie Magic module, students can become directors, writers and producers of their own movies, using the various technologies that bring Hollywood to life.
Four weeklong sessions of the non-residential camp will be offered 10 a.m. to 3 p.m. Monday through Friday the weeks of June 27, July 11, July 18 and July 25. The cost is $350 per session, with discounts for attending more than one of the weeks. The registration deadline is May 2. Exact dates and application information can be found at
http://teachhouston.uh.edu/summer-camps/
. For questions not answered on the website, email
stemcamp@central.uh.edu
or call 713-743-8644.
By providing students with access to these fun learning opportunities, inspirational role models and gifted teachers, the camp organizers not only hope to cultivate interest in STEM, but also encourage Houston-area youth to pursue higher education and become the next generation of innovative problem solvers.
To see a video of past camp highlights, visit
http://youtu.be/cqApgcA0MWw
.
###
About the University of Houston
The University of Houston is a Carnegie-designated Tier One public research university recognized by The Princeton Review as one of the nation's best colleges for undergraduate education. UH serves the globally competitive Houston and Gulf Coast Region by providing world-class faculty, experiential learning and strategic industry partnerships. Located in the nation's fourth-largest city, UH serves more than 42,700 students in the most ethnically and culturally diverse region in the country. For more information about UH, visit the university's
newsroom
.
To receive UH science news via email, sign up for
UH-SciNews
.
For additional news alerts about UH, follow us on
Facebook
and
Twitter
.
---