Many students use Spring Break as a time to hit the beach and relax from their studies. This week, a group of Coogs will hit the sand and surf, but they won't be catching rays or playing volleyball. Instead, members of the University of Houston's Bonner Leaders Program will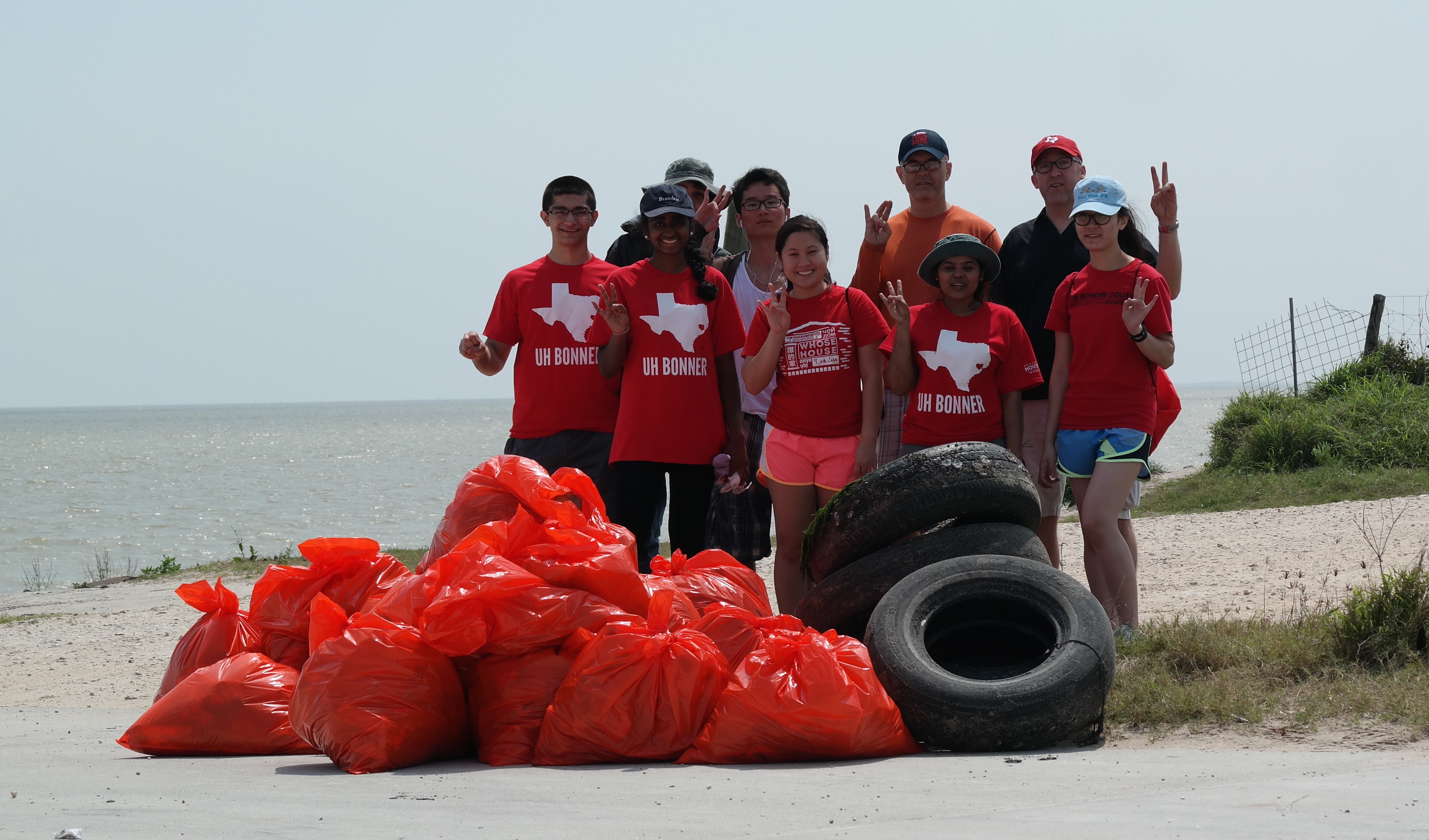 help clean up the Texas coastline.
On Thursday, March 17, students will depart for the Port Mansfield Beach and Cut Clean Up. This is the third year Bonner scholars (all UH Honors College students) have participated in this event, which is organized by alumni Kathie and Miller Bassler.
"We've been cleaning about six miles of beach as well as the cut – granite rocks on both sides placed there by the Army Corps of Engineers," said Andrew Hamilton, director of the Bonner Leaders Program and associate dean for student success at the College of Natural Sciences and Mathematics. "This year, we'll probably do eight or nine miles because we'll have a larger group. One of the upsides of going to the same place every Spring Break is that can we see, even a year later, the effects of our work. One of the downsides is that we also see how much trash accumulates in a year."
In addition to the usual bottles, wrappers, cans and papers, students have located an assortment of large items. These include refrigerators, tires, ship rope, bathtubs and tents.
This trip, which runs through March 20, allows students to contribute to the community and realize what can be accomplished with just a few days off from classes.
"This annual trip is a key, formative experience for our service-minded Honors students who are all for a 'day on' rather than a 'day off,' " said Brinda Penmesta, sophomore finance major. "The biggest takeaway has been seeing the large impact we can make when we're in full force cleaning up the beach."
The trip isn't just work for these Bonner scholars, it's a bonding experience that emphasizes their commitment to community service.
"What's great about this trip is its ability to bring students from different backgrounds and majors together and allow them to laugh with one another, share their stories, and bond over their passion for service," Penmetsa said. "We're getting to know each other better and developing stronger friendships that make us thankful for the program and all the opportunities the directors and the University have provided us with. On the Bonner Spring Break trip, we're reminded that we're a family."
Based in the Honors College, the Bonner Leaders Program connects students with community service opportunities. The program is open to all UH students and allows them to work alongside community members to address the economic, social and cultural challenges facing the city. Among its initiatives is UH's Campus Kitchen, which helps feed Houstonians in need with unused food from University dining halls. In February, the Bonner Leaders Program earned the UH System Board of Regents Academic Excellence Award for its public service efforts. For more details, visit the Bonner Leaders Program's website.
The Honors College at UH is a hub of excellence that serves the needs of gifted undergraduates in more than 100 fields of study and reflects the rich diversity of the University of Houston in its courses, faculty and students. For over 50 years, the Honors College has offered students the best of both worlds: the advantages of a small college together with the comprehensive resources and rich diversity of a large university. For more information about the Honors College, visit http://TheHonorsCollege.com.
###
---