The Houston Shakespeare Festival is an event for friends and families to come together and celebrate the Bard under the stars. Of course, the event would not be complete without the opportunity to enjoy a picnic on the hill of Miller Outdoor Theatre.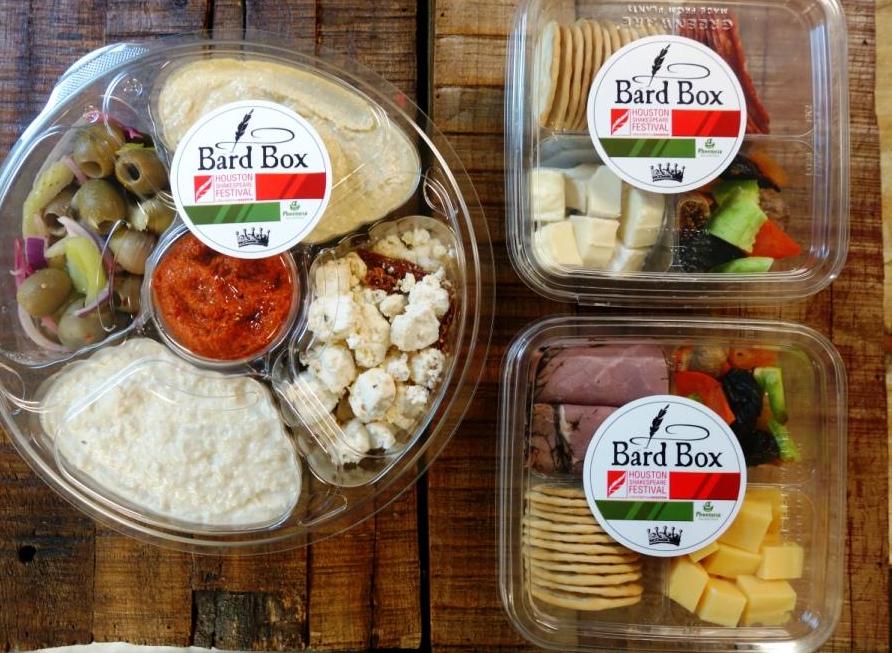 Thanks to Phoenicia Specialty Foods, planning the next festival picnic is about to get easier. This summer, the popular market and eatery is introducing Bard Boxes. The packaged meals can be taken to go and enjoyed at this year's Houston Shakespeare Festival (July 29 – Aug. 7). These take along meals not only offer patrons an easy meal on the go, but mark a partnership between Phoenicia and HSF. Customers soon will begin seeing Shakespeare signage throughout Phoenicia's downtown location directing customers to the Bard Boxes and other festival-friendly food and beverages.
"I'm thrilled that HSF and Phoenicia are partnering up this summer," said Rob Shimko, the festival's executive director. "HSF is not just a cultural institution in Houston, it's also one of the biggest celebrations in the city, and of course a great party needs great food."
Bard Boxes are available at Phoenicia's downtown location through the festival's conclusion. Options include snack boxes with roast beef, Beemster cheese, crackers, dry fruit or salami, Brie, crackers, dried fruit ($6.99). Large meze appetizer platters that feed six people and include muhammarra red pepper dip, hummus, feta cheese, Sicilian olives ($18.95) will also be available.
This year's Houston Shakespeare Festival will present performances of "Much Ado About Nothing" (July 29 and 31; Aug. 2, 4, 6) and "Henry V" (July 30, Aug. 3, 5, 7) at Miller Outdoor Theatre in Hermann Park (6000 Hermann Park Dr.) Performances are free and begin at 8:15 p.m.
"Phoenicia is delighted to partner with this year's Houston Shakespeare Festival," said Haig Tcholakian, Phoenicia owner. "We recognize the integral role HSF has played in developing Houston's cultural identity for more than four decades and are excited to help continue this beloved tradition."
Phoenicia Specialty Foods carries more than 15,000 products with down-to-earth pricing from more than 50 countries. Fresh-baked artisan breads, European pastries, boutique wines and beers, quality meats and cheeses, fresh seafood and meat, hot grille items, catering, prepared foods, exotic produce and housewares are all available by Phoenicia's buying power achieved from international imports. Visit YUMSTOP.com for more details.
The Houston Shakespeare Festival was founded in 1975 by Sidney Berger, UH professor emeritus and longtime director of UH's School of Theatre & Dance. Since its inception, the festival has entertained thousands of Houstonians and attracted national theater talents. Previous HSF performers include Seth Gilliam, OBIE-award winner Brandon Dirden, Crystal Dickinson, Mirron Willis, Ken Ruta, Mark Metcalf and Cindy Pickett. Festival alumni also include film and television star Brett Cullen and actor/writer Robert Wuhl, who both contributed their talents while attending UH.
More details on HSF can be found on its website. Details on tickets and the venue can be found on the Miller Outdoor Theatre website.
###
---