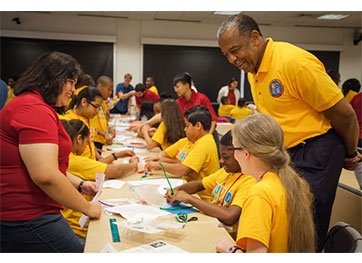 Area middle school students will be building model spacecraft with the help of an astronaut at the University of Houston Thursday, June 16, during the 17th annual ExxonMobil Bernard Harris Summer Science Camp.
As part of the program's science, technology, engineering and math (STEM) curriculum, students will participate in the "Mars Lander Challenge," a space-themed competition inspired by UH alum and veteran astronaut Dr. Bernard Harris Jr. Using household materials, teams of students will design model spacecraft theoretically capable of protecting an astronaut during a planetary landing.
During the testing exercise, campers will drop their spacecraft from designated height intervals that mimic the impact and shock of a planetary landing. Teams whose spacecraft land with their astronauts intact will move onto the next round, dropping their spacecraft from higher elevations until a winner is declared. Harris, UH faculty and ExxonMobil engineers will work alongside campers, offering guidance as they construct their designs.
Founded by Harris, who was the first African American to walk in space, the two-week, all-expenses-paid program is one of one of 10 being held on university campuses nationwide. The experience immerses campers in hands-on, team-based learning activities designed to reveal the science behind the latest technology, increase environmental awareness and explore how math impacts daily life.
Affiliated with UH's teachHOUSTON math and science teacher preparation program, the camp gives students an opportunity to live on campus and participate in interactive classes taught by university faculty, secondary teachers and other STEM professionals. College students serve as senior camp counselors. With activities such as building models of bridges, designing robots and constructing energy-efficient habitats, students see firsthand how STEM can come alive through real-world applications.
In its 17th year at UH, the camp has transformed the summer vacations of local middle school students by giving them the opportunity to get ahead in STEM disciplines, meet role models and experience college life. Offered to academically qualified students entering sixth, seventh and eighth grades, the camp was started at UH in 1999 by Harris, and this is 11th year the ExxonMobil Foundation has been a partner.
WHO:
Houston-area middle school students building model spacecraft with help from astronaut Bernard Harris, the first African-American to walk in space
WHAT:
ExxonMobil Bernard Harris Summer Science Camp at UH
WHEN:
2 to 4 p.m., Thursday, June 16
Best visuals: 2:45 to 3:45 p.m.
WHERE:
University of Houston
Philip Guthrie Hoffman Hall (PGH), Room 232
Map:
http://www.uh.edu/campus_map/buildings/PGH.php
Off Cullen Boulevard, Entrance 14. Media encouraged to parallel park curbside along Entrance 14 in loading zones, clear of driving lanes and bus stops. Please ensure vehicles display media credentials in dashboard, visible through windshield.
###
Suggested tweet: Astronaut @bernardharrisjr helps kids build spacecraft at @UHouston @exxonmobil #science #camp http://bit.ly/1UGfWDi via @UH_News #STEM
To receive UH science news via e-mail, sign up for
UH-SciNews
.
---