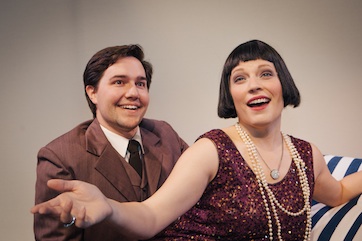 The honors keep coming for the University of Houston's Moores Opera Center. Just days before the center's performances of "La Rondine" and "Così Fan Tutte," the Houston Press announced that it was a recipient of a Houston Press MasterMind Award.
Each year, the publication recognizes members of the arts community who are making significant contributions to the city's creative landscape. The Moores Opera Center was one of three arts organizations honored with this award by the weekly news and arts publication. MasterMind recipients receive $2,000 and a plaque. Awards are presented during the Houston Press Artopia at 8 p.m., Jan. 30 at Winter Street Studios (2101 Winter).
"This kind of recognition moves me deeply," said Buck Ross, director of the Moores Opera Center. "To have our program recognized as a vital part of the arts scene in Houston is very meaningful."
This award comes on the heels of the Moores Opera Center earning top honors from the National Opera Association (NOA). In late 2015, NOA announced that the Moores Opera Center had been awarded first and second places respectively for its productions of "Rappaccini's Daughter" and "Frau Margot." For five years in a row, the Moores Opera Center has earned honors from NOA.
"We've had our eye on Buck Ross, director and self-described dilettante of Moores Opera Center, and his program for a few years now," wrote Houston Press writer Susie Tommaney in an article announcing MasterMind recipients. "The center's program selections are innovative, with the group making sure that each season contains at least one opera that's been written in the past ten years."
The MasterMind award kicks off a big year for the Moores Opera Center. In 2016, the Moores Opera Center celebrates its 30th anniversary. Ross joined the UH faculty in 1985. One year later, he led a fledgling UH opera program to its first production, "The Mother of Us All." Now, the center delivers four operas every year in the Moores Opera House. Houstonians have come to expect classics, contemporary works and city premieres from the center. Likewise, they anticipate show-stopping performances featuring rising stars. For students, the center offers opportunities to bolster their talents and their resumes with performance opportunities that aren't available at most other institutions.
Audiences have several opportunities to experience the Moores Opera Center this weekend. "La Rondine" will be performed at 7:30 p.m., Jan. 28, 30 and 31. "Così Fan Tutte" takes the stage at 7:30 p.m., Jan. 29 and Feb. 1, and at 2 p.m., Jan. 31. Both operas will be performed in the Moores Opera House (Entrance 16 off Cullen Boulevard). In April, the center presents David Carlson's "Anna Karenina." For more details on the Moores Opera Center including show times, dates and ticket prices, visit its website.
---