The University of Houston is getting a second Health and Biomedical Sciences Building (HBSB2). The new nine-story, 300,000-square-foot facility is the next phase of the development of UH's biomedical district. While construction is already under way, a ceremonial groundbreaking will take place 10 a.m. Monday, Feb. 29.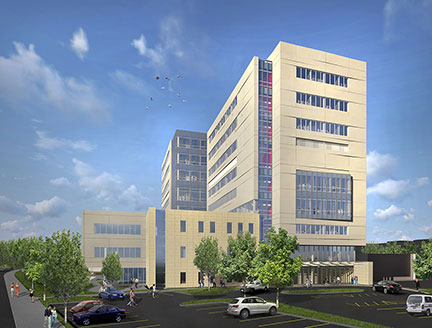 HBSB2 will be the new home of the UH College of Pharmacy, unifying faculty and students currently housed in the Texas Medical Center and Science and Research 2 buildings. This consolidation will help integrate teaching, research and clinical programs, as well as provide a state-of-the-art infrastructure needed to enhance the delivery of new models of teaching and patient care. It also will promote faculty collaboration and increase research funding, as well as greatly expand the capacity to graduate highly trained pharmacy professionals and conduct basic, clinical and translational research.
Located in the southeast quadrant of campus, in what will become known as the biomedical district, the new building will be connected to other surrounding health science buildings – current and future – via four of its floors. Currently, this includes the Health and Biomedical Sciences Building 1 (HBSB1), J. Davis Armistead College of Optometry building and Campus Recreation and Wellness Center. Shepley Bulfinch, the architectural firm that completed HBSB1 in 2013, is the architect of HBSB2.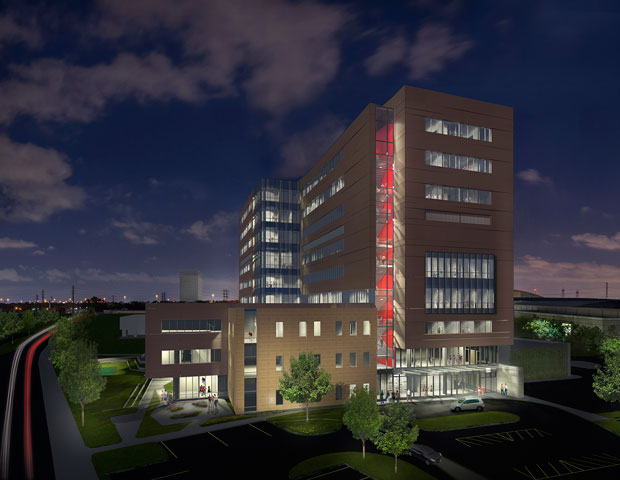 With a project budget of $145 million, HBSB2 will be home to specialized research and teaching labs, faculty and staff offices, an expanded health sciences library and a mix of teaching spaces, including large auditoriums and smaller learning spaces for group and individual study.
Another important component of HBSB2 will be an integrated health care clinic to serve faculty, student, staff and the surrounding community. The clinic will be made possible by partnering with a federally qualified health center (FQHC) that will have primary care, OB-GYN, family practice and pediatric physicians.
WHAT:
Groundbreaking Ceremony for New Health and Biomedical Sciences Building at UH
WHEN:
10 a.m. Monday, Feb. 29
WHERE:
Future site of Health and Biomedical Sciences Building 2 at northeast corner
Wheeler Avenue between Spur 5 and Calhoun Road behind the College of Optometry
Complimentary parking available in Lot 2A and Welcome Center Garage          
WHO:
Speakers will include UH President Renu Khator, UH College of Pharmacy Dean Lamar Pritchard and donor David Sparks, the chairman and majority owner of the Professional Compounding Centers of America, which gave a $500,000 gift to name the compounding sterile products laboratory in HBSB2.
###
Editorial Note: Renderings of the building are available to media by contacting
Lisa Merkl
. This video, produced by architectural firm Shepley Bulfinch, demonstrates the design technology used for the facility:
https://www.youtube.com/watch?v=7fFjpiewXTA
.
---