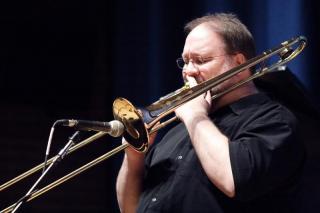 The 2016 University of Houston Moores Jazz Festival is taking a slight detour. Audiences should expect the same musical energy that's made the festival one of Houston's most anticipated jazz events. This year, however, the fest takes its act off campus to Houston's Hobby Center for the Arts.
Although the festival is in a temporary new location, jazz fans will still hear from top talents including guest star, trombonist Paul McKee. McKee will perform alongside the acclaimed UH Moores School of Music (MSM) Jazz Orchestra. He also will work with area middle and high school students during two clinics. The festival also will feature performances from some of the state's best players.
Performances take place in the Hobby Center's Zilkha Hall (800 Bagby St). Tickets are $23.75 for general admission and $18.75 for UH faculty, staff, alumni, students and seniors. They are available online at www.thehobbycenter.org or by calling 713-315-2525 and at the door.
A schedule of festival performances is as follows:
Feb. 26, 8 p.m. – Performances from the Jazz Festival All Stars and the MSM Jazz Ensemble
Feb. 27, 8 p.m. – Performance by the MSM Jazz Orchestra with special guest McKee.
Feb. 26 and 27, noon – McKee hosting free jazz clinic and Q&A for area students in UH's Winston Complex (adjacent to TDECU Stadium off Cullen Boulevard). These clinics are open to the public.
McKee is visiting UH from the University of Colorado at Boulder, where he serves as associate professor of jazz trombone and arranging. McKee earned his bachelor's degree from the University of Northern Iowa and his master's degree from the University of Texas at Austin. He previously performed with Woody Herman's Thundering Herd and has lent his talents to several of the group's Grammy-nominated recordings. His solo album "Gallery" features collaborations with fellow trombonist Carl Fontana, trumpeter Bobby Shew, saxophonist Tim Ries and trumpet player Ron Stout. McKee has taught for DePaul University, Youngstown State University, Northern Illinois University, the University of Missouri at Kansas City and Florida State University. He is a prolific clinician, arranger and composer. Many professional musicians and academic ensembles have performed his works.
McKee is the latest jazz veteran to contribute his talents to the Moores Jazz Festival. The Count Basie Orchestra and sax legend Michael Brecker were the event's inaugural guest stars in 1999. Since then, top performers have performed alongside UH students on campus. Festival alumni include trumpeter Randy Brecker, saxophonist Bill Evans, trombonist Andy Martin, saxophonist Shelley Carroll and trumpeter Lew Soloff.
For more details on the festival and UH's jazz studies program, visit
http://uhjazz.com/
---