With a roll of polyhedral dice one can be transported from the real world into a land of wizards and warriors. That's part of the allure of role-playing games such as Dungeons & Dragons. In Qui Nguyen's play "She Kills Monsters," high school teacher Agnes Evans delves into the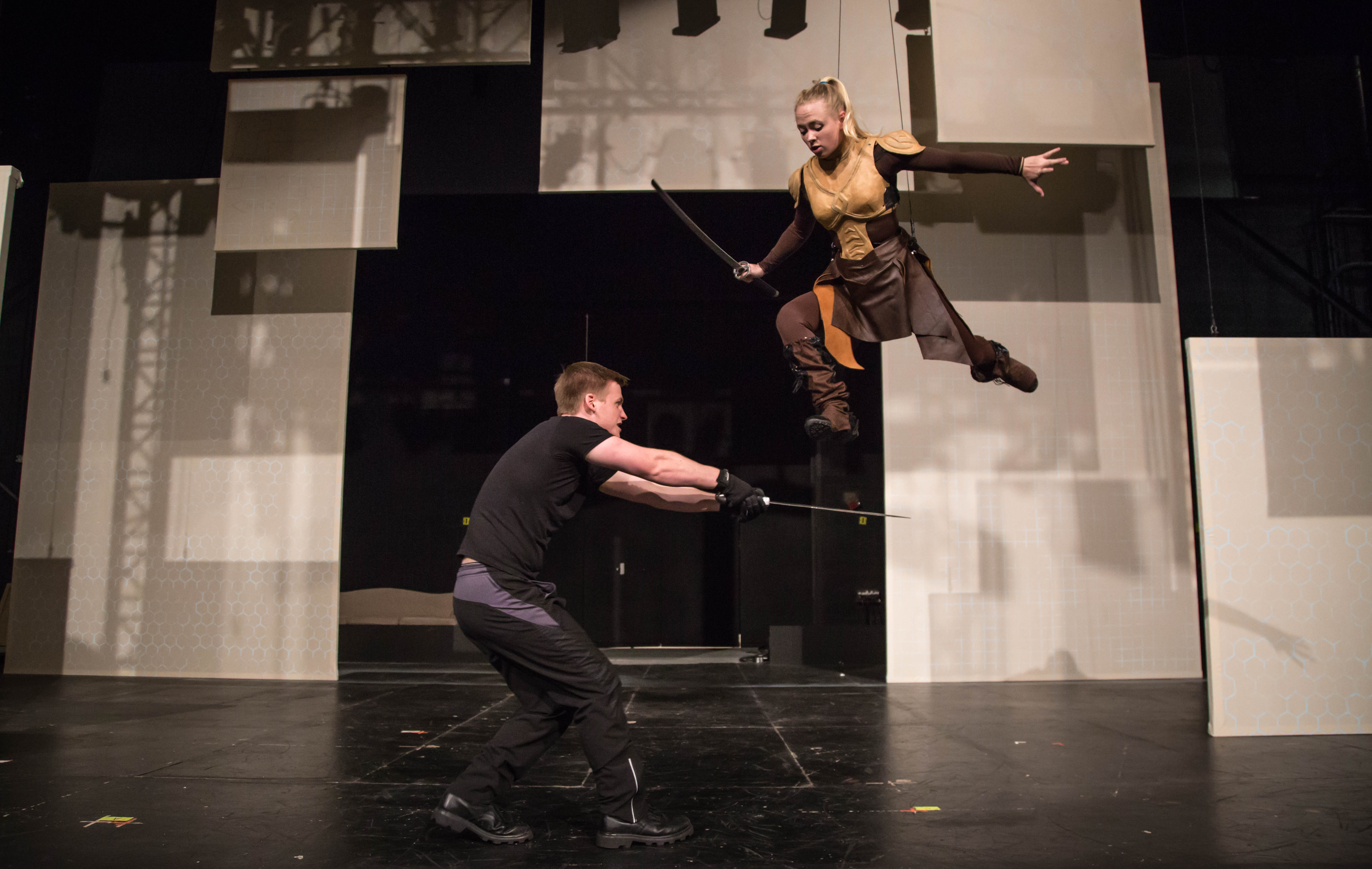 fantasy-based game … unlocking a world occupied by her departed sister Tilly.
Presented by the University of Houston's School Theatre & Dance (SOTD), the play makes its regional debut at the University's Lyndall Finley Wortham Theatre. Performances run April 22 – May 1. Show times and dates are as follows:
8 p.m., April 22, 23, 28, 29, 30
2 p.m., April 24, May 1
Tickets are $10 and $20. They can be purchased online or by calling the UH School of Theatre & Dance box office at 713-743-2929.
Set in 1995, the play explores not only the fantasy world of role playing games, but themes of identity and loss as lead character Agnes' family is killed in a car crash. Expect plenty of references to Generation X culture, said director Adam Noble. Audiences should also be prepared for a fast-paced, action-packed production that will incorporate monsters, sword fights, dancing and high-flying maneuvers.
Although Nguyen's story often embraces campy elements, Noble is committed to transporting audiences to a fantastic, unforgettable world.
"I want audiences to experience the thrill that goes with playing a role-playing game," said Noble, associate professor in the School of Theatre & Dance. "There's a certain sense of magic and wish-fulfillment that are part of the Dungeons & Dragons culture. It's important to capture that on stage and present characters and a world that is truly larger than life."
The play is one of the School of Theatre & Dance's most ambitious efforts and is the first production utilizing choreography developed in its new Aerial Laboratory. Led by Noble and fellow SOTD faculty member and wife Melissa Noble, the lab explores stage techniques and technology used to lift actors from the stage and propel them into flight. According to Adam Noble, the lab will help students learn the art of aerial performance that is commonplace in many major stage productions, such as "Cirque du Soleil," "Peter Pan" and "Spiderman: Turn Off the Dark."
"This is a first step for the laboratory," Adam Noble said. "We want to show our colleagues and the community that this is something we can do at a university level. It is exciting for everyone involved. We're going to try and take audiences to new places with the work from this lab … starting with 'She Kills Monsters.'"
Cast members include Katie Marsh as Tilly, Meg Rogers as Agnes, Catherine Thomas as Kaliope, Jay Mast as Orcus, Mason Patterson as Steve, Griffin Hammel as Chuck and Ethan Sims as Miles.
"She Kills Monsters" premiered off-Broadway at the Flea in 2011 to strong reviews and has been performed in regional theaters across the country.
"We're excited to bring this play to Houston," Adam Noble said. "One of the reasons it works so well is that it does touch on some serious issues but has many lighthearted elements. It's definitely a magical ride for both our performers and the audience."
---