University of Houston students receive invaluable insights from world-class faculty members. They also learn life lessons through involvement with professional development organizations, research opportunities and other enriching experiences. For these and other reasons, the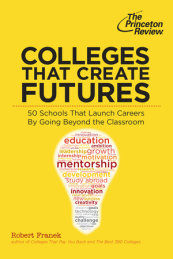 Princeton Review has named UH to its exclusive list of "Colleges that Create Futures."
Only 50 universities across the country were included in the Princeton Review's newest college guide. UH was among those that made the cut and is featured in the recently released book, "Colleges That Create Futures" (published by Penguin/Random House). Institutions selected for this book were those that empowered students to develop practical skills to apply in the workforce and provided them with tools to launch their careers either before or after graduation.
"Simply put, these colleges are stellar at putting the 'hire' in 'higher education,'" said Robert
Franek, the book's author and senior vice president publisher at The Princeton Review. "We chose and commend them for the extraordinary opportunities they are giving their students for practical, hands-on learning that complements their academic experiences. These will not only enhance their resumes but also fast-track them for successful careers."
"Colleges That Create Careers" was developed in response to the Princeton Review's "College Hopes and Worries Survey." Nearly 51,000 college applicants and parents were surveyed about the connection between college and career. A majority of respondents indicated that career satisfaction and income were the biggest benefits of earning a degree.
In its research for "Colleges That Create Careers," the Princeton Review team conducted interviews with students, faculty and administrators. Its findings are presented in narrative profiles that appear in the book.
UH's profile spotlights a handful of the colleges, departments and programs that contribute to its unique academic culture. These include the Office for Undergraduate Research, the Honors College, C.T. Bauer College of Business and Conrad N. Hilton College of Hotel and Restaurant Management. The book also applauds UH's student life, alums and talented faculty.
"The professors I have had have generally been excellent teachers, very understandable in class  . . . and have very open door policies for helping students," commented one student who was interviewed by the Princeton Review staff.
The book also highlights UH's student to faculty ratio (22-to-one) and small class sizes. Despite the University's consistent growth, it maintains an intimate learning environment, where students can be mentored and coached along their life journeys.
"For a university of this size and research level, involvement between the faculty and the student body is much closer to what you'd expect for a small liberal arts school," said Simon Bott, UH's undergraduate chair in the chemistry department and director of the Honors Program in Health Professions.
"Colleges That Create Futures" can be ordered online through the Princeton Review bookstore. A website also is available with articles and advice related to the college-career connection.
UH's inclusion in the "Colleges That Create Futures" book complements other Princeton Review accolades. Recently, the University was among its "Best 380 Colleges." UH also earned the No. 2 spot in Princeton Review's "2015 Top Entrepreneurial Programs" (for the Cyvia and Melvyn Wolff Center for Entrepreneurship in the C.T. Bauer College of Business) and has been listed among the publication's "Best Western Colleges," "Colleges That Pay You Back," "Green Colleges" and "Public Schools."
---