Renu Khator, chancellor of the University of Houston (UH) System and president of UH, has been elected chair of the Board of Directors of the American Council on Education (ACE), the major coordinating body for the country's colleges and universities. 


Khator became board chair during ACE's 97th Annual Meeting in Washington, DC. She succeeds James H. Mullen, Jr., president of Allegheny College (PA), and will serve for one year. Before becoming ACE Board chair, Khator served as vice chair.


ACE's membership also elected Georgetown University (DC) President John J. DeGioia vice chair; and Nancy J. McCallin, president of the Colorado Community College System, secretary.
"It will be a privilege to serve as chair of the American Council on Education during a period of major challenges and enormous opportunities for higher education," Khator said. "I look forward to working with my colleagues on key issues such as college completion, global competitiveness and innovation." 


The UH System's first woman chancellor and the first Indian immigrant to head a comprehensive research university in the United States, Khator assumed her post in January 2008. 

As chancellor, Khator oversees a system that serves nearly 70,000 students, has an annual budget that exceeds $1.5 billion and has a $3.8 billion-plus economic impact on the Greater Houston area each year. As president, she is the chief executive officer of the largest and oldest of the four UH System universities. 


During her tenure, UH has experienced record-breaking research funding, enrollment and private support. In 2011, UH became a Tier One university, with the Carnegie Foundation elevating it into the top category of research universities. 


A noted scholar in the field of global environmental policy, Khator has published numerous books and articles on the subject. Prior to her appointment, she was provost and senior vice president at the University of South Florida, capping a 22-year career at that institution. 


Khator was born in Uttar Pradesh, India, earning a bachelor's degree at the University of Kanpur. She received her master's and Ph.D. in political science from Purdue University (IN).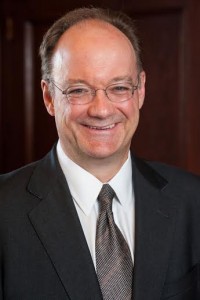 For nearly four decades, DeGioia has defined and strengthened Georgetown University as a premier institution for education and research. A Georgetown alumnus himself, DeGioia served as a senior administrator and a faculty member in the Department of Philosophy before becoming Georgetown's 48th president in 2001.
As president, DeGioia is dedicated to deepening Georgetown's tradition of academic excellence, its commitment to its Catholic and Jesuit identity, its engagement with the Washington, DC, community and its global mission. Under his leadership, Georgetown has also become a leader in shaping the future landscape of higher education and is closing out a $1.5 billion fundraising campaign dedicated to enhancing the lifelong value of a Georgetown education. 


DeGioia is also a leading voice in addressing broader issues in education. He currently serves on the board of directors of the Forum for the Future of Higher Education, the Carnegie Corporation of New York and the National Association of Independent Schools. He serves on the Division I Committee on Academics for the NCAA and as a commissioner on the Knight Commission on Intercollegiate Athletics. 


Also elected to the ACE Board of Directors during the business meeting were:


Term Ending March 2018
E. Gordon Gee, president, West Virginia University
R. Barbara Gitenstein, president, The College of New Jersey
Rufus Glasper, chancellor, Maricopa Community Colleges (AZ)
Wallace D. Loh, president, University of Maryland
Harold L. Martin Sr., chancellor, North Carolina A&T State University
Kathleen McCartney, president, Smith College (MA)
A. Clayton Spencer, president, Bates College (ME)
Elected as higher education association representatives for a one-year term ending March 2016
Association of American Colleges and Universities (AAC&U), Carol Geary Schneider, president
Association of Research Libraries (ARL), Elliott Shore, executive director
About ACE 


Founded in 1918, ACE is the major coordinating body for all the nation's higher education institutions, representing more than 1,600 college and university presidents, and more than 200 related associations, nationwide. It provides leadership on key higher education issues and influences public policy through advocacy. For more information, please visit www.acenet.edu or follow ACE on Twitter @ACEducation.
---