The University of Houston Master of Athletic Training program—the only one of its kind in Houston—is partnering with the Houston Texans to give students valuable experiences in one of the fastest-growing professions.  Starting this summer, one UH student will spend two semesters under the guidance of team physicians and medical personnel.     
"The Houston Texans now will be a clinical affiliation site for our students," said Josh Yellen, clinical assistant professor and program director of the Master of Athletic Training program. "All of our second year students were given the opportunity to submit for this clinical education assignment. Of those students who interviewed with the Houston Texans Sports Medicine staff, one was selected.  Matt Barnes will be with them until May 2016."
The program is part of UH's Department of Health and Human Performance. The department has formal clinical affiliation agreements with seven organizations in Houston for clinical education experiences and assignments. Additionally, many students had the opportunity to gain other experiences with medical staffs of the Houston Marathon, The Half Iron Man in Galveston, the Sugar Land Marathon, as well as participate in events hosted by the Greater Houston Athletic Trainer Society. The experiences help students gain an edge as they approach the growing number of companies and corporations adding athletic trainers to their rosters. 
 "The interactions allow these future professionals to use their education and apply it to real world situations," he said. "During the various marathons, our students saw athletes who were dehydrated and cramping and were able not only to assist medical directors, but see issues they've only read about in the classroom. Other opportunities allow them to see operating rooms, general medical and rehab settings."
An athletic trainer is a healthcare professional who collaborates with physicians. Athletic trainers provide prevention and emergency care, clinical diagnoses, therapeutic interventions and rehabilitation of injuries and medical conditions.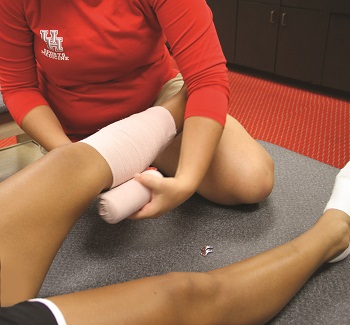 The Master of Athletic Training program began with 13 students in the summer of 2014 has more than doubled in a year's time as students from Houston and across the country discover the opportunities of pursuing these studies in the fourth largest city in the country and where the Texas Medical Center resides.
"We'll continue developing opportunities for students that will set them apart from other candidates," Yellen said.  "I want employers hiring athletic trainers to think UH first. I want us to be the best."
The UH program includes studies in prevention and health promotion, clinical examination and diagnosis, acute care of injury and illness, as well as therapeutic interventions, healthcare administration and professional development. Students complete up to 1,400 hours of clinical education with partner agencies that also include, Memorial Hermann Medical Group, Memorial Hermann Sports Medicine and Rehabilitation, the Ironman Sports Medicine Sports Institute and the Sugar Land Skeeters.
For more information about the UH Master of Athletic Training program, visit http://www.uh.edu/class/hhp/graduate-programs/masters-athletic-training/
---